Why Star Wars Fans Will Want To Follow Chewbacca On Twitter This Week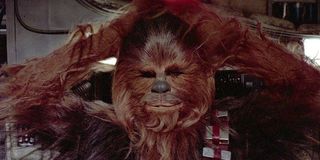 Chewbacca made his triumphant return to the big-screen back in December when he appeared alongside his old pal Han Solo in Star Wars: The Force Awakens. It turns out that was just the beginning though. Because Peter Mayhew, the actor that has portrayed everyone's favorite Wookiee since Star Wars began, is going to be releasing pages from his original 1976 Star Wars script on Twitter.
Why has Peter Mayhew decided to release such a prized possession onto the world-wide-web? Well, because he wants to celebrate the start of filming on Star Wars: Episode VIII.
Over the next few days 71-year-old Peter Mayhew will release a few page of The Adventures Of Luke Starkiller as taken from the Journal Of The Whills by George Lucas to his Twitter account @TheWookieeRoars. Peter Mayhew will start uploading these pages to his account at 8PM EST on February 17. Which means that you either need to head over there right away and wait patiently for the first Tweet. Or click over to catch up.
But what makes the unveiling of this script even more exciting is that once the final pages have been uploaded to Peter Mayhew's Twitter page, the 7 ft 3 in actor will pair it with a huge announcement.
Are we finally going to learn more about Chewbacca's wife Malltobuck, son Lumpawarrump, and father Attichitcuk, who were introduced to us in the 1978's Star Wars Holiday Special? One can only hope.
Despite the tease of this big announcement, it will nevertheless be interesting to spot the differences between The Adventures Of Luke Starkiller and what Star Wars Episode IV: A New Hope eventually became. Not only that but Peter Mayhew has also vowed that the script with be peppered with coffee thumbprints and his own personal notes that he has scrawled across the page.
Director Rian Johnson and the Star Wars team celebrated the start of filming on Episode 8 by uploading the very first footage of their first day on set, which saw Daisy Ridley's Rey going face-to-face with the previously seldom seen Luke Skywalker (Mark Hamill).
Peter Mayhew will once again return as Chewbacca in Star Wars: Episode 8. However, some of the more extreme action sequences in the blockbuster will see Joonas Suotamo replace Mayhew as the Wookiee. Which is understandable, since the 71-year-old now suffers from knee problems. He'd still kick all of our asses though.
Your Daily Blend of Entertainment News