The Early Guardians Of The Galaxy Vol. 2 Box Office Predictions Probably Have Marvel Pumped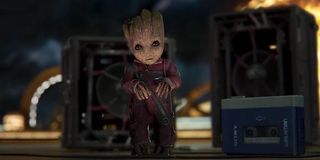 2014's Guardians of the Galaxy proved that just because you have a movie populated with obscure comic book characters doesn't mean it can't become a worldwide phenomenon. The movie was both a critical and commercial success, and three years later, this band of cosmic troublemakers are gearing up to return in Guardians of the Galaxy Vol. 2. The sequel is still three weeks away from release, but early tracking already bodes well, as it's predicted to make around $150 million its opening weekend.
Assuming Guardians of the Galaxy Vol. 2 hits this amount, that would place it in the top 5 highest openings Marvel Studios has ever had. Currently The Avengers is still resting comfortably in the #1 spot having made $207 million in 2012, while fellow MCU entries Avengers: Age of Ultron, Captain America: Civil War and Iron Man 3 follow in that order. 2007's Spider-Man 3, which was released before the MCU even existed, holds the #5 opening spot for Marvel movies in general with $151 million. It certainly helps that anticipation for Guardians of the Galaxy Vol. 2 is running high, as The Wrap also reported that audience surveys place the movie as having a "general interest score" of 63%.
Before Guardians of the Galaxy came out, the number of people who'd even heard of the team, let alone could identify its members, were few and far between. Oh sure, they'd made plenty of comic book appearances and had even popped on a few animated shows, but the movie really put them on the map. Now names like Groot and Rocket Raccoon are new favorites, so you can bet that a lot of folks are looking forward to seeing them back on the big screen. And more butts in seats means more money for Marvel bigwigs to jump into Scrooge McDuck-style. For comparison, Guardians of the Galaxy made over $94 million its opening weekend, so a potential increase to $150 million or more is nothing to sneeze at. And that's just the start, because if Guardians of the Galaxy Vol. 2 performs similarly to fellow MCU sequels Avengers: Age of Ultron and Captain America: Civil War, it might hit $1 billion. That's not guaranteed yet, but given the popularity of these characters, it's not impossible.
Set a few months after the first movie, Guardians of the Galaxy Vol. 2 will see Star-Lord, Gamora, Drax, Rocket and Grout trying to keep their new family together while going up against villains like Ayesha and Taserface. The team will also meet Ego and Mantis, the latter of whom will join the team with Nebula and Yondu. While Guardians of the Galaxy 3 has been discussed, it hasn't been officially ordered, but the Guardians themselves will return next year of Avengers: Infinity War.
Guardians of the Galaxy Vol. 2 blasts its way into theaters on May 5.
Your Daily Blend of Entertainment News
Connoisseur of Marvel, DC, Star Wars, John Wick, MonsterVerse and Doctor Who lore. He's aware he looks like Harry Potter and Clark Kent.
Your Daily Blend of Entertainment News
Thank you for signing up to CinemaBlend. You will receive a verification email shortly.
There was a problem. Please refresh the page and try again.