Why Voicing Baby Groot Is Challenging, According To Vin Diesel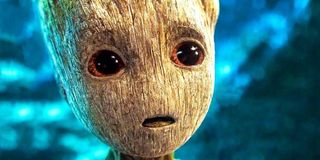 Most people assume that Vin Diesel actually has the easiest gig in Hollywood voicing Groot in the Guardians Of The Galaxy films. I mean all he has to do is utter three words. But the actor has long insisted that playing Groot is actually extremely challenging exactly because he only has three words to utter, especially since he's also given a secret script that boils all of Groot's lines down to just, 'I am Groot.' Vin Diesel recently explained this, along with one newer reason why voicing the character is challenging.
Of course, towards the end of Guardians Of The Galaxy there were major worries that we'd heard the character utter, 'I am Groot,' for the very last time, after he was obliterated when he shielded the rest of the group from the Dark Aster as it crash-landed on Xander. But Rocket was able to grab a sapling cut from Groot, which meant that Baby Groot was born, and Guardians of the Galaxy Vol. 2 will actually see the character make a major return.
Since he's voicing a much younger incarnation of the character, Vin Diesel admitted to Total Film that he decided to make his voice incredibly high when recording his dialogue, which comes with its own difficulties. Vin Diesel doesn't seem too confident that it was exactly what Marvel were after, though, as he admitted that he expects them to adjust his vocal in post-production. Vin Diesel remarked,
Even though we've only seen snippets of footage from Guardians Of The Galaxy Vol. 2 courtesy of its abundance of trailers, it's already safe to predict that Baby Groot is going to steal the upcoming blockbuster sequel. Mostly because he's just so preposterously adorable. You can remind yourself of just how cute Baby Groot is in Guardians Of The Galaxy Vol. 2 by watching one of the trailers for the blockbuster below.
It's not just the Guardians Of The Galaxy Vol. 2 film that will profit from the addition of Baby Groot, because the introduction of the miniature version of the character will undoubted lead to a plethora of toys and whatnot of Baby Groot that will almost certainly make Marvel a heap load of money, too. Of course, what's most important is how Guardians Of The Galaxy Vol. 2 itself uses Baby Groot, and how he mixes with Rocket, Peter Quill, Gamora, and Drax. The trailers suggest it will go just fine, but we'll learn for ourselves when Guardians Of The Galaxy Vol. 2 is released on May 5.
Your Daily Blend of Entertainment News