How Involved Carrie Fisher Was In The Star Wars: The Last Jedi Script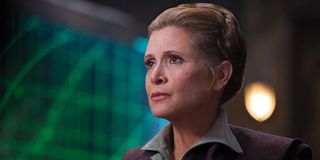 Carrie Fisher wasn't just a brilliant actress. She also had a rare wit and extraordinary writing talent, too. This was something that Star Wars: The Last Jedi writer and director Rian Johnson looked to take advantage of when he was developing the upcoming sci-fi epic. So much so that Rian Johnson would partake in writing sessions with Carrie Fisher that sound as though they were a fusion of stand-up comedy, poetry, a one-woman show, and jazz. Rian Johnson recalled,
Rian Johnson made this admission during the Star Wars: The Last Jedi panel at Star Wars Celebration, where he had many delightful details and anecdotes regarding the hugely anticipated blockbuster. Of course, the event couldn't unfold without Carrie Fisher being mentioned, especially in the wake of her untimely passing at the end of December, which immediately made the world a much harsher and more depressing place.
Star Wars: The Last Jedi will provide fans with the perfect opportunity to bid farewell to the pop culture goddess, while Rian Johnson's above revelation means that fans will now be hell-bent on pinpointing the exact lines of dialogue that might have sprouted from her beautifully bizarre imagination. Carrie Fisher has a long and storied history when it comes to both published novels and screenplays, as she not only wrote the likes of Postcards From The Edge, and its subsequent cinematic adaptation, but she also scribed the books Surrender The Pink, Delusions Of Grandma, and Wishful Drinking, as well as script-doctoring Hook, Sister Act, Lethal Weapon 3, and The Wedding Singer. So clearly she knew how to polish and enhance even the most accomplished of scripts.
Carrie Fisher even had previous experience when it came to adjusting Star Wars screenplays, as she turned her hand to script-doctoring the prequel trilogy, too. However, considering the reputation of The Phantom Menace, Attack Of The Clones, and Revenge Of The Sith that might not be considered a positive.
As well as the above revelation, one of the big takeaways from the Star Wars: The Last Jedi panel at Star Wars Celebration was the very first teaser trailer for the blockbuster. If you've not had the good fortune of seeing the footage you can immediately right that wrong by clicking below.
Stay posted to CinemaBlend over the next few days for further revelations from the Star Wars Celebration, while Star Wars: The Last Jedi will finally be with us on December 15.
Your Daily Blend of Entertainment News
Your Daily Blend of Entertainment News
Thank you for signing up to CinemaBlend. You will receive a verification email shortly.
There was a problem. Please refresh the page and try again.