Watch Kids Hilariously Describe Transformers: The Last Knight With Peter Cullen's Voice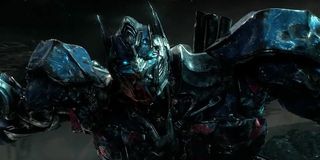 Peter Cullen has one of the greatest voices in the history of human history, which is exactly why he has voiced Optimus Prime in all of Michael Bay's Transformers films. With the latest installment of the blockbuster franchise due out in just a couple months time, Paramount Pictures has looked to use Cullen's dulcet tones to their advantage. They've done just that in the latest batch of promotional videos for the film, which sees kids hilariously describing Transformers: The Last Knight, only with their voices replaced by Cullen's. It works a treat, too, just listen to the clearly adorable Gabriella suddenly sound terrifying as she provides a quick overview of the film.
Need more proof? Well here is a blonde-haired ragamuffin breaking down exactly what the Transformers can do and what they can turn into, just in case you weren't aware.
There were two more videos uploaded for the Transformers: The Last Knight -- Kids Explain series, both of which are as delightfully cutesy as the above. In another video, Vlad blabbers on about the variety of different vehicles that Transformers can turn into, while Georgia even goes as far as to break down one of the scenes in the blockbuster, too. It sounds a though it was quite a transformative experience for Georgia as well, because she meticulously explain how a car transformed from an automobile into a robot, and is clearly now waiting with bated breath for it to happen in real life.
Unfortunately, the above foursome weren't quite able to provide us with any more details regarding the plot for Transformers: The Last Knight, and whether or not the film actually provides a gateway into a fully-fledged cinematic universe for the robots in disguise. However, the latest trailer for Transformers: The Last Knight does a pretty stellar job of reminding viewers exactly why they should be hyped for the blockbuster. You can relive the footage below.
Transformers: The Last Knight marks the fifth installment to the hugely popular series, and it will finally be with audiences on June 23. If The Last Knight doesn't quite tickle your fancy, then you should check out our full 2017 movie schedule to pick out a film that you do actually want to go and see.
Your Daily Blend of Entertainment News
Your Daily Blend of Entertainment News
Thank you for signing up to CinemaBlend. You will receive a verification email shortly.
There was a problem. Please refresh the page and try again.