Why An Animated Watchmen Movie Would Be A Terrible idea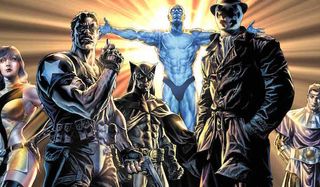 Watchmen has been one of DC Comics' seminal tales for over three decades. Exploring an alternate history where costumed vigilantes were eventually outlawed and the world was on the brink of nuclear war in 1985, the series deconstructed the superhero genre in a way that had never been done before and influenced numerous stories that followed in the years after. Watchmen hit a new level of popularity in recent years thanks to the live action movie adaptation, and last week, it was reported that Warner Bros is considering releasing an R-rated, direct-to-video animated Watchmen movie.
DC has had a lot of success with their animated movies over the last decade, and they just started delving into R-rated projects with Batman: The Killing Joke and Justice League Dark. However, going down this path for Watchmen would be a terrible idea. Keep in mind that there's no official word yet on if an animated Watchmen movie is indeed in the works, but nevertheless, here are the main reasons DC should steer clear of adapting the Watchmen characters this way.
The Live Action Movie Is Still Fresh In Minds
To some of you, it may seem like ages ago that Watchmen opened in theaters, but it hasn't even been a whole decade since the movie's release. Whether or not that's considered a "long time" will depend on the individual, but considering how often Zack Snyder's Watchmen is being discussed online (no surprise there given its polarizing reaction), clearly it's still fresh in a lot of people's minds. Why release an animated movie so soon afterwards? Especially when the live action movie managed to faithfully adapt so many elements from Alan Moore and David Gibbons' epic tale.
Okay, it'd be naive not to realize that money is a prime motivator here, but from a creative standpoint, DC would be better off letting Zack Snyder's Watchmen continue to simmer for many more years. There's a lot to be absorbed from it, and some of the performances feel like they were ripped straight from the printed page.
An Animated Movie Runtime Isn't Enough For Watchmen
The theatrical release of Zack Snyder's Watchmen movie was 163 minutes, i.e. a little over two and a half hours. That's already longer than the average running time for that kind of blockbuster, but the Watchmen story is dense, so those extra minutes are needed. Later in 2009, the director's cut of the movie was released, which incorporated deleted scenes and added approximately 24 minutes. That was followed by the Ultimate Cut, which took the director's cut and sprinkled in the Tales of the Black Freighter animated movie that had been released separately earlier in the year. That brought the running time to a whopping 215 minutes, i.e. over three and a half hours.
In contrast, DC's previous direct-to-video animated movies usually only last around 75 minutes. As stated in the previous section, Watchmen is a dense story, and there's no way you can properly tell it in such a short amount of time. It's possible DC could take the plunge and make this animated Watchmen movie two or three hours, but then you run into the problem of how many consumers would actually be interested in something like that. Watchmen is fairly well-known, but it's not at Batman or the Justice League's level of popularity.
Watchmen Is Better Suited For A TV Adaptation
There's a lot to take in over Watchmen's 12 issues, from the present day adventures of the main heroes to learning about the Minutemen to that Tales of the Black Freighter comic book telling a mini-story within the main narrative. Even the Ultimate Cut of the live action movie had to leave out certain details from the original story. Cleary there's too much from the Watchmen comic to pack into one movie, so if DC is so keen on revisiting Watchmen, why not take the property to the small screen? In 2015, it was reported that Zack Snyder had "conversations" with HBO about making a Watchmen TV series, though at the time, it was unclear whether this project was another adaptation of the original comic series or a prequel/sequel to the 2009 movie.
Regardless, DC would be wise to take this animation idea and apply it to a TV series. By stretching the story across episodes rather than one uninterrupted movie, there's more time to spend on character introspection, delving into the history of superheroes in this world, etc. Think of something similar to The Night Of. Watchmen can't sustain being multiple seasons, but as a one season offering? That would be fantastic.
We're Approaching Watchmen Overload
Watchmen was originally published from 1986 to 1987, but ever since the live action movie was released, DC has been using that mythology more often. First there was the Before Watchmen series of comic books published in 2012 that spotlighted the main characters and a few minor ones. Then there's the fact that DC Rebirth has been incorporating Watchmen elements into the main DC continuity, like Batman discovering The Comedian's smiley face button in the Batcave, Doctor Manhattan being responsible for creating the New 52 universe rather than Barry Allen and a mysterious man named Mr. Oz keeping watch over certain DC heroes who some fans suspect is Ozymandias.
While we don't fault DC for wanting to take more advantage of using these characters, we're getting dangerously close to overexposure with them. Whether the company goes the animated movie route or decides to make a TV show, it would be wise to wrap up these DC Rebirth mysteries first and wait a few years before moving forward on a different Watchmen media project. Too much of something isn't always a good thing.
Connoisseur of Marvel, DC, Star Wars, John Wick, MonsterVerse and Doctor Who lore. He's aware he looks like Harry Potter and Clark Kent.
Your Daily Blend of Entertainment News
Thank you for signing up to CinemaBlend. You will receive a verification email shortly.
There was a problem. Please refresh the page and try again.