What The DCEU Can Learn From Justice League Dark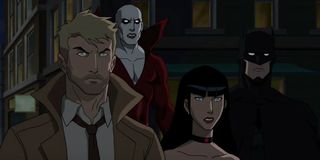 Ask any self-respecting DC fan, and they will tell you that the comic book giant's animation is pretty much second to none. For all of the stumbles that the company has faced in recent years, DC's animated films and TV properties have thrived for the better part of the last three decades. That tradition doesn't appear likely to slow down any time soon either, as the recently released Justice League Dark animated film has captured the minds and imaginations of DC aficionados all over the world. If you were concerned about the dark and mysterious team's ability to cross over into adaptation, I think it's safe to say that you can put those worries to rest.
Considering the film's success with DC fans, we have put together a list of lessons that the silver screen DCEU can learn from Justice League Dark, which hit Blu-ray and DVD on February 7, courtesy of Warner Bros. Home Entertainment. Animation may sometimes play second fiddle to live-action movies, but the innovative work done in this medium could really go a long way towards correcting course for the bigger properties down the line. With that in mind, let's dive in and explore how Justice League Dark's depiction of the main Justice League could inspire the team's future dynamic in the DCEU.
It Shows The League Working In Their Own Separate Corners
One thing that Justice League Dark (and entire animated DC universe) manages to capture that live-action superhero universes often fail to achieve is a living, breathing sense of believability. There's an organic feeling to this DC universe, and much of that has to do with the fact that we get to see the members of the Justice League operating in their cities before coming together. We see how Superman operates in Metropolis, how Wonder Woman works in Washington, and how Batman deals with problems in Gotham. Beyond that, the movie also swaps out Hal Jordan for John Stewart as Green Lantern -- lending a genuine sense that other missions and adventures are being conducted that have nothing to do with the central story.
It Keeps Magic Mysterious
Magic has become a difficult concept for many superhero movie universes to tackle these days. It either exists, or it doesn't. Justice League Dark helps add quite a bit of nuance to that idea by establishing the fact that, while magic does indeed exist in this world, it's understanding and use is reserved for an exclusive club of individuals. That's the way the DCEU should handle magic moving forward; it exists, but in a dark and seedy underworld that can elude detection by the world's greatest detective. Instead of allowing characters like Suicide Squad's El Diablo and Enchantress to become widely known and visible to the public, their abilities should be viewed by the cynical with a healthy dose of skepticism.
An R-Rating Can Work In The DC Universe
Whether or not we will ever actually see an R-rated live-action DC project remains to be seen (particularly one featuring The Caped Crusader) but Justice League Dark proves beyond a shadow a doubt that The Killing Joke wasn't a one-off, and the formula works. While it's not necessarily the hardest R-rating in the superhero genre (Deadpool and Logan come to mind), Justice League Dark's more mature rating allows it to embrace the darker material inherent to the titular team of supernatural heroes, and it lends a sense of authenticity to the world created by the film. If movies like Suicide Squad ever felt neutered by their PG-13 rating, then DC would be wise to look to the tonal success of this animated feature to guide them in the development of future projects.
Batman Works As A Side Character
Although some DC fans initially showed concern over the prominent inclusion of Batman in a Justice League Dark story, the movie works perfectly by keeping him relegated to the sidelines. This is not Batman's story, and his primary purpose is to serve as an audience surrogate so characters like John Constantine can shine in the spotlight. It was arguably unnecessary to include him in the first place, but keeping The Caped Crusader around in a reduced capacity allows for a perfect blend of familiar and new DC elements. Some of the most compelling depictions of Batman occur when his inner monolog is taken away, and we view him as a side character, and the DCEU could do some impressive things with Ben Affleck's version of the vigilante by following that model.
It's Actually Fun
Despite everything that Justice League Dark's title and R-rating may suggest, the fact of the matter is that it's still a hell of a lot of fun to watch. There's a noticeable chemistry between characters like John Constantine, Zatanna, Deadman, and Swamp Thing that the DCEU should pay close attention to, and the film isn't afraid to make jokes out of its darker elements. John Constantine is an instantly likable and charming focal point for the Dark team (mostly due to Matt Ryan's always reliable performance as the character), and the film embraces the dark side of this gothic DC world while never sacrificing the spirit of the story. The DCEU's heroes wear colorful costumes, but they could learn a thing or two from these genuinely colorful characters.
If you'd like to get your hands on your own copy of the flick, head here (opens in new tab). In addition, if you would like to take a look at what else the major studios are releasing on Digital and on discs this month, take a look at the February 2017 movie and TV releases.
Your Daily Blend of Entertainment News
Originally from Connecticut, Conner grew up in San Diego and graduated from Chapman University in 2014. He now lives in Los Angeles working in and around the entertainment industry and can mostly be found binging horror movies and chugging coffee.