10 Awesome Movies You Need To Watch Before They Leave Netflix In May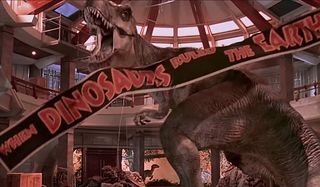 May brings a wealth of big ticket favorites to Netflix's (opens in new tab) streaming side, but with it comes the usual booting of titles that are at the end of their current lifespans. Last month saw some favorites leaving the pack, and believe it or not, there's even more deep cuts on this month's chopping block that we kind of forgot were in the library to begin with.
If you're like us, you're going to want to say goodbye to some of these movies with a final watch through. Or maybe you missed them the first time around, and always wanted to experience them for yourself. Either way, here's your homework for the month of May, as the following movies are about to disappear.
The Jurassic Park Series
All three dino-tastic entries of the storied blockbuster franchise are about to become extinct yet again. While you're probably only interested in Jurassic Park, might we recommend at least revisiting The Lost World, just to give it another shot? Jurassic Park III can't leave fast enough, but if you're curious, have some friends over and take the journey with some quick witted barbs along the way. Afterwards, you should probably watch the first flick again, as it really does hold up to modern standards.
Flubber
The remake of The Absent Minded Professor would have been nothing without the comedic talents of Robin Williams in the driver's seat. Flubber is one of those titles that's just bound to be rediscovered by folks, leading to a nostalgic resurgence and possibly a sequel with a name like Flubber 2: Bounce Back. (And not Son of Flubber... we see you.) Should that day come, the folks at Disney are going to want to rewatch this before they even write their first treatment, as they should be reminded that without a warm, chaotic force of comedy at the center of it all, you've just got bouncing slime in a conga line.
What About Bob?
When you talk to folks about Bill Murray movies, you'll hear some of the same films being mentioned as first draft picks. Stripes, Caddyshack, Meatballs, and Ghostbusters will all come up, but sometimes you'll hear some really interesting answers. What About Bob? Is one of those deep cuts from the Murray canon that's popular enough to be mentioned quite often, and it's obviously remembered enough to have a gender-swapped reboot heading to NBC. But no matter how good it is, it'll be mere baby steps towards the greatness that is Bill Murray and Richard Dreyfuss driving each other mad.
Cujo
Surprisingly enough, there's two and a fourth Stephen King projects leaving Netflix this month. That one-fourth we'll explain later, but for now let's mourn the fact that Cujo's massive bite will be leaving Netflix streaming. The story of a family pet turning into a rabid menace, the film and book have both set the standard for pet-based horror, and allowed the name to be jokingly thrown out whenever someone's dog is misbehaving. But if you've actually watched the film, you'll be able to set the record straight, and remind them that not all dogs who've had a bad day trap their owners in the family sedan.
Grosse Point Blank
This is the John Cusack we miss. It's not that his talents have left him, but projects like this one haven't been in large supply in the recent years of his career. Grosse Point Blank tackles two important subjects, contract killing and high school reunions, in the same darkly comic film, and we're all the better for it. It isn't hard to imagine this film being a loosely written sequel to Say Anything, where Lloyd Dobbler changed his name, got really good with a pistol, and did some damage through witty wordplay and marksmanship. Though there is a loosely written sequel to this film out there, War Inc. You should probably avoid that at all costs, as it's nowhere near as witty as Grosse Pointe Blank.
Tales From The Darkside: The Movie
Remember how we mentioned that one-fourth of Stephen King was leaving Netflix? Well, here it is, as his story "The Cat From Hell" made its way into the anthology film, Tales From The Darkside: The Movie. Framed as three stories being told by a boy who's trying to prevent Blondie's Deborah Harry from eating him, the trio of stories run much like the original Tales From The Crypt film from back in the 70's. If you don't have fun with the twisted stories of mummies, cats, and gargoyles, then you'll definitely have fun picking out the who's who of actors in this flick.
Step Up
Before he made us laugh, and way before he made ladies believe in magic, Channing Tatum came under a spell of his own, as he met his wife Jenna Dewan-Tatum on the set of Step Up, a film that spawned a franchise, and a loving marriage, all at the same time. To be fair, that franchise was kind of deserved, as dance films hadn't been big in a while, and the moves in this film were enough to wake them up for a little while. Don't trust the imitators, or the subpar sequels, this is the real deal.
Stephen King's Thinner
Our last Stephen King tale is one of his most underrated, as Stephen King's Thinner is both a dark comedy and a pretty effective horror tale dealing with obesity and egoism. Watching Billy Halleck slowly losing weight, and eventually his morals, is a delight when seen through the comically askew viewpoint that only King could give it. Not to mention, when your main character tries to hire the mob to erase an evil curse laid upon you, you know you're going somewhere special.
The Sons of Katie Elder
Our last two selections are classics, but in the case of The Sons of Katie Elder, you've already seen this film in a more modern context. Remade in the mid-aughts as Four Brothers, the classic story of four sons trying to protect their family legacy, after a life of failing to live up to their mother's expectations, is a Western that's stood the test of time. Not to mention, you're going to bring a crowd in when you pair John Wayne and Dean Martin together in a Western, so there's always that
To Catch A Thief
You can never have enough Alfred Hitchcock in your cinematic diet, which means that you'd better throw To Catch A Thief into your queue for the remainder of its lifespan. Cary Grant plays a retired jewel thief who, to keep his upstanding reputation in his life of leisure, must catch the actual burglar running rampant on the French Rivera. Of course, this may or may not be easier with Grace Kelly accompanying him for the ride, but one thing's for certain -- if it's a Hitchcock, there's a good chance that danger's always closer than you think.
Senior Movies Contributor
CinemaBlend's James Bond (expert). Also versed in Large Scale Aggressors, time travel, and Guillermo del Toro. He fights for The User.
Your Daily Blend of Entertainment News
Thank you for signing up to CinemaBlend. You will receive a verification email shortly.
There was a problem. Please refresh the page and try again.