How War For The Planet Of The Apes Will Be Like A Western, According To The Director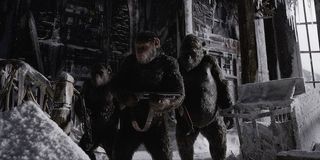 The conflict between the remnants of humanity and the rising ape population is about to hit its tipping point. Two years after the events of Dawn of the Planet of the Apes, War for the Planet of the Apes will see ape protagonist Caesar going up against the leader of the humans, The Colonel, played by Woody Harrelson. While the third movie in the rebooted Planet of the Apes series will an epic battle between both sides like the title promises, but like the previous two entries, Caesar's personal journey will be the main driving force, and his actions will lead to this new story becoming similar to a Western. According to director Matt Reeves:
If we get a scene showing Caesar and The Colonel drawing pistols at high noon, I am so on board for that! Even if that doesn't happen, The Outlaw Josey Wales inspiring War for the Planet of the Apes is intriguing. While the two trailers released so far have done a good job broadly explaining the movie's premise, it's unclear what the development is that will "crack" Caesar. Maybe it's because one of his fellow apes was seen allying with the humans in the most recent preview. Maybe he'll lose his wife and/or son during one of the battles. Whatever happens, having Caesar emulate Clint Eastwood's character from the 1976 movie makes War for the Planet of the Apes sound even more thrilling.
Of course, it's not just Caesar who will be affected by what goes down in War for the Planet of the Apes. All of the ape and human combatants involved have a stake in the outcome of this war, and whichever side comes out on top will be the dominant force on Earth. Even though this series is based off a movie where apes reigned supreme and humans were lorded over, that doesn't mean that events will play out the same way in this continuity. This also isn't a black and white, good vs. evil conflict. As Caesar performer Andy Serkis noted to EW:
While we wait for this war to unfold on the big screen, check out the trailer for War for the Planet of the Apes that was released last month.
War for the Planet of the Apes hits theaters on July 14. Don't forget to check out our comprehensive guide on when 2017's other big blockbusters are opening.
Connoisseur of Marvel, DC, Star Wars, John Wick, MonsterVerse and Doctor Who lore. He's aware he looks like Harry Potter and Clark Kent.
Your Daily Blend of Entertainment News
Thank you for signing up to CinemaBlend. You will receive a verification email shortly.
There was a problem. Please refresh the page and try again.