What It's Like To Win A Walk-On Star Wars Role, According To A Person Who Did It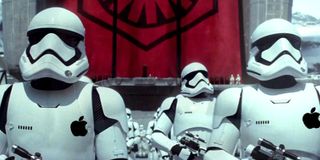 Any self-respecting Star Wars fan has dreamt of appearing in an installment of the sci-fi space opera. At first, you want to be the hero of the adventure, then you realize that it'd actually be a lot more fun to play the villain, but as you get older you'd actually just be happy to have a walk-on part. One lucky scoundrel by the name of D.C. Barns managed to do just that after winning the Star Wars: Force For Change competition. He's now opened up about what it was like to be on the set of Star Wars: The Force Awakens, revealing that it was just as magical as probably imagined.
But who exactly did D.C. Barns play in Star Wars: The Force Awakens? Unfortunately his character didn't actually have a name, however he revealed that it involved him being sat at the gambling table in Maz Kanata's castle alongside Warwick Davis--something that he will obviously revel in telling anyone he ever meets in the future. D.C. Barns then opened up about the direction he received from J.J. Abrams while on the set of The Force Awakens, noting that the director originally wanted big performances. D.C Barns recalled,
D.C Barns admitted that the coolest scene he was a part of during his brief time on the set of Star Wars: The Force Awakens didn't actually make the final cut, though. It is a deleted scene that has already achieved notoriety amongst Star Wars fans, though, as it featured Chewbacca ripping off Unkar Plutt's arm. D.C. Barns admitted,
Clearly D.C. Barns was given the V.I.P. treatment when he was on the set of The Force Awakens, too. That's because he was introduced to pretty much the entire cast. Unfortunately he didn't have any juicy gossip about Harrison Ford, Daisy Ridley, and John Boyega, and instead boringly revealed that they're all very nice people. Yawn. D.C. Barns admitted,
It also turns out that Harrison Ford is rather convincing when it comes to making up small chit chat with strangers. Because while he asked the obligatory questions about D.C. Barns' home town, he also went into detail about the mud on set, too. D.C Barns respond to a Reddit question about what he talked to Harrison Ford about with,
Those of you that are interested in following in D.C. Barns' adventures can try and land your very own walk on part in a future Star Wars film by heading over to Omaze.com/Star Wars (opens in new tab). Who knows, if you're lucky, you might even get the opportunity to talk about sand with Mark Hamill.
Your Daily Blend of Entertainment News
Thank you for signing up to CinemaBlend. You will receive a verification email shortly.
There was a problem. Please refresh the page and try again.