Why Michael Rooker Doesn't Mind That Some Of His Guardians Of The Galaxy Vol. 2 Scenes Got Cut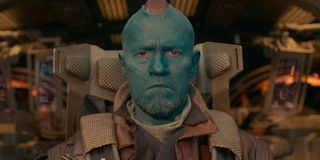 Guardians Of The Galaxy Vol. 2 promises to be a rather complicated film for Yondu, as it will finally see Peter Quill meeting his real father Ego, played by Kurt Russell. Because Yondu decided against delivering a young Peter Quill to Ego, and instead raised him amongst his crew, there's going to be plenty of unanswered questions that will need to be explored in Vol. 2. But that doesn't mean that Michael Rooker will be up front and center during most of the blockbuster. In fact, the actor has not only revealed that several of his scenes in Vol. 2 were ultimately cut and sliced down, but he's also insisted that he's actually happy they were, because they helped to make his role better. Michael Rooker remarked,
But don't fret, Yondu fans. Despite Michael Rooker's refreshing admission to Uproxx, I feel he truly still plays a hearty role in Vol. 2. Although Guardians Of The Galaxy Vol. 2 primarily revolves around Peter Quill and Ego's home planet, Yondu and his crew still play an integral part. If you want to know more about Yondu and the rest of the cast prior to the film's release, take a look at what we know about the upcoming movie.
The fact that critics have lavished praise on Guardians Of The Galaxy Vol. 2, as the film currently has a score of 86% on Rotten Tomatoes, suggests that writer and director James Gunn is able to handle the emotional complexities of these stories in an affecting manner, while still bringing in all the fun and joy that the original film possess in droves, too. Hopefully, Yondu is a big part of that.
From the sound of things, audiences are gagging to jump back into action with the Guardians, too, because it has been predicted that Guardians Of The Galaxy Vol. 2 will gross somewhere between $140 and $160 million at the box office when it opens in America this weekend. There have even been suggestions that it could match the $179 million opening of last year's Captain America: Civil War, which would show just how far the formerly cult sci-fi characters have come in such a short amount of time. We'll get to see if that's the case shortly after Guardians Of The Galaxy Vol. 2 finally hits cinemas on May 5.