10 Cameos You May Have Missed In Guardians Of The Galaxy Vol. 2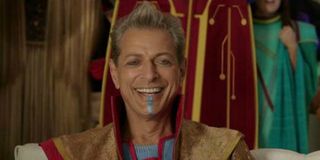 While we've come to expect plenty of cameos from Marvel Studios, especially from a certain Stan Lee, Guardians Of The Galaxy Vol. 2 went into overdrive with the amount of individuals that popped up in the film. Writer and director James Gunn managed to find space for both classic and cult Marvel characters, the return of some from the original film, as well as even debuting someone that we didn't expect to be introduced to until November. But who else made a cameo in Guardians Of The Galaxy Vol. 2? Here's a rundown of 10 cameos from the blockbuster that you may have actually missed.
There are obviously some pretty big SPOILERS ahead for Guardians Of The Galaxy Vol. 2. So if you haven't see the blockbuster then you probably should click onto one of other fine articles instead.
David Hasselhoff
It wasn't hard to spot David Hasselhoff in Guardians Of The Galaxy Vol. 2, as he suddenly emerged during one of the key scenes of the film. Kurt Russell's Ego shape-shifted into The Hoff's likeness as he was in the middle of an emotional interchange with Peter Quill. Chris Pratt's character had previously revealed that, in the absence of his actual father, he used to tell his school friends that David Hasselhoff was his dad, but that he was busy with Knight Rider to see him. Which is just a little bit more plausible than my father is actually a planet.
Stan Lee
Of course, there was always going to be a Stan Lee cameo in Guardians Of The Galaxy Vol. 2. But his appearance this time around wasn't just special because he actually appears in two separate scenes, but because it goes some way to actually explaining HOW he's managed to pop up through the Marvel Cinematic Universe. In his first cameo, Lee is recalling to the Watchers, who are the oldest species in the universe that watch but never interfere with other civilizations, his previous cameo appearances. While in the credit sequence, the Watchers become bored of hearing Lee's stories and walk away from him. Harsh, but fair.
Seth Green
Guardians Of The Galaxy's most popular cameo, and its biggest surprise, was the inclusion of Seth Green's Howard The Duck right at the end of the film. During this scene, it was revealed that Benicio Del Toro's the Collector had acquired him. However, the Collector clearly allowed Howard The Duck to have his freedom after the first film, as GOTG 2 shows him on the planet of Contraxia alongside a date, who he is regaling with his tales and witticisms. Of course, there's every chance that Howard The Duck's date was instead actually trying to catch the attention of anyone who could help her get away from the annoying creature, once again voiced by Green.
Jeff Goldblum
This was one of the hardest cameos to spot, and certainly one that none of us were expecting. Because while Jeff Goldblum doesn't actually appear in any scenes in Guardians Of The Galaxy Vol. 2, he could be spotted throwing down some dance moves in the credits sequence. Those of you that sat through all five of the additional scenes will know that most of the film's cast kept us entertained by dancing inside bubbles along the side. But as well as Pratt, Saldana et al, we also got to see Jeff Goldblum throwing shapes dressed as his Thor: Ragnarok character the Grandmaster, too. Fingers crossed we'll get to see more of these moves later this year.
Sylvester Stallone
We've actually known that Sylvester Stallone would be appearing in Guardians Of The Galaxy Vol. 2 for quite some time, as news of his casting leaked rather early. It had been heavily speculated that he'd be portraying Stakar Ogord, a high-ranking member of the Ravagers and also one of the first members of the Guardians, too. Obviously, in the Marvel Cinematic Universe, they're not quite that, but that doesn't diminish his impact on screen, as it was still pretty impressive to see Sylvester Stallone strutting his stuff, especially since Stakar had a reunion with his ex-teammates, each of whom were just as impeccably cast. Starting with Aleta Ogord, who was portrayed by ...
Michelle Yeoh
Just like Stakar, Aleta Ogord was so impressed by Yondu's sacrifice to save Peter Quill that after attending his eye-watering funeral, she decided to let bygones be bygones and reunite with Stakar and a few other people to form their own intergalactic posse. Stakar and Aleta actually have plenty of history together, though, as she is his adopted sister. In the comics, they even merge to make Starhawk, however only one of them can then retain their physical form. Obviously, they're not quite at the stage in Guardians Of The Galaxy Vol. 2, and it will be interesting to see which direction James Gunn takes the characters, especially since it will include bringing the supremely talented Michelle Yeoh back into the fold again. Either way they will be joined by ...
Ving Rhames
While the pairing of Michelle Yeoh and Sylvester Stallone was enough to make me overjoyed, the sight of Ving Rhames as Charlie-27 was enough to almost make me pass out in glee. Like Stallone's Stakar and Yeoh's Aleta, Ving Rhames's Charlie-27 decides to prove how much affection the Ravagers have for Yondu by putting aside his own differences to once again pal together with the duo. As you can immediately tell from just one look at Ving Rhames, Charlie-27 is super strong, enormous, and military-minded, and the thought of Rhames, Yeoh, and Stallone reappearing as a new team throughout the Marvel Cinematic Universe is enough to make even the biggest DC devotee smile. But there was more, because James Gunn also included another actor as a cult Marvel character. Click onto the next page to learn who.
Michael Rosenbaum
Michael Rosenbaum might not have quite the same clout as Stallone, Yeoh, and Rhames, even though he did make a pretty convincing Lex Luthor in Smallvile, but his friendship with James Gunn always meant that he was likely to get a cheeky part in Guardians Of The Galaxy Vol. 2. Rather than being a tiny role, though, Rosenbaum got to play Martinex, who actually has human ancestry but that's somewhat overshadowed by his crystalline skin and the fact he can fire hot and cold from his hands. He's the last of his kind, which explains why he has become pally with the Ravagers.
Miley Cyrus
Obviously James Gunn has enjoyed surprising fans with random cameos in both Guardians Of The Galaxy films. But he decided to take that up a notch with the addition of Miley Cyrus as the voice of Mainframe, who is a robot that was actually created by Tony Stark, but in Vol. 2 appears to have now lost its body. We don't actually get to see Cyrus on-screen, instead we just hear her digitally effected voice as the severed head that nods its approval to Yondu's sacrifice and the reunion of the original Guardians gang. Even then it is extremely difficult to tell that it's her. But she's there all right, and the big question now is whether we'll get to see her reunite with the rest of Mainframe's body.
Gregg Henry
Arguably the most touching cameo was Gregg Henry reprising his role as Peter Quill's grandfather, as he pops up in the second scene where the blob manifests and then starts to overwhelm Missouri. In the sequence, it's a little hard to tell that it's Grandfather Quill, as Gregg Henry has been put in old-age make-up to compensate the fact that it has been three decades since we saw him at the start of Guardians. Nevertheless it's still a hugely important cameo, as it connects Ego's despicable antics to Quill on Earth, and is a reminder of the dastardly deed he committed to his mother.
Your Daily Blend of Entertainment News
Thank you for signing up to CinemaBlend. You will receive a verification email shortly.
There was a problem. Please refresh the page and try again.