5 Huge Things We Just Learned About Thor: Ragnarok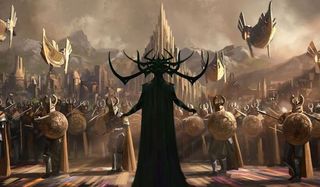 Although Thor was seen last year in Avengers: Age of Ultron, it's been since November 2013 that the God of Thunder led his own movie. Next year, Thor: Ragnarok will finally return moviegoers to his world, and from everything we've heard, it's not only going to be the biggest Thor movie yet, but a story that will have major repercussions on the rest of the Marvel Cinematic Universe. Over the last six months, there have been a lot of casting rumors and reports, but today, Marvel finally released an official cast list.
Along with several confirmations of returning Marvel characters, including that Mark Ruffalo is reprising Burce Banner/The Hulk, the Thor: Ragnarok list included several characters that hadn't been mentioned until today. This is the biggest news drop we've gotten for the threequel yet, so here's everything you need to know about the new players in Thor: Ragnarok, as well as one notable absence.
Grandmaster
Jeff Goldblum's David Levinson is returning this summer in Independence Day: Resurgence to protect Earth against aliens, but in Thor: Ragnarok, the actor will be the extraterrestrial in the MCU. Goldblum has been cast as the "eccentric" (with Goldblum, we wouldn't have it any other way) Grandmaster, a character who has existed since 1969. Also known as En Dwi Gast, he is one of the oldest beings in the universe, and although he possesses many mighty cosmic powers, his main obsession is with games, from those on a board to ones of chance. It's through these that he frequently manipulates the Marvel universe's heroes and villains. Whether this means he's controlling Thor: Ragnarok's main antagonist (more on her later) or has a more complicated plan in the works, it's doubtful he'll be up to any good. Because Grandmaster is such a powerful figure, don't be surprised if he appears in other cosmic related MCU movies, interacting with folks like Thanos and The Collector.
Skurge
Karl Urban has already left his mark on the geek community playing Dr. Leonard McCoy in the new Star Trek movies and Judge Dredd in 2012's Dredd. Next year, he'll make the jump to Marvel in Thor: Ragnarok playing Skurge, better known as The Executioner. Gifted with enhanced Asgardian abilities and armed with an enchanted battle axe, Skurge has been one of Thor's most dangerous enemies since 1964. However, in most of his appearances, he's usually not the one calling the shots. He has often been seen serving Enchantress, an Asgardian sorceress who frequently uses seductive magic to bend men to her will. Rather than being controlled by her, Skurge serves Enchantress willingly because he's in love with her, though all she does is lead him on. Skurge by himself will be a formidable threat in Thor: Ragnarok, but since he's a key player in this story, then chances are that Enchantress won't be far away.
Hela
Cate Blanchett has been connected to Thor: Ragnarok for since last December, and there were also rumors she would be playing Hela, the Asgardian goddess of death in Marvel lore. Now it's confirmed that the Carol actress will indeed be playing Hela, thus serving as the third Thor movie's main antagonist. In the comics, Hela is the daughter of an alternate Loki, and after coming of age, Odin granted her power over the deceased in Hel and Niffelheim. Not content with all this, she's since tried to expand her power to Valhalla and other versions of the afterlife. Although the Thor: Ragnarok concept art released shows her leading a mighty army, we still don't know what she's trying to accomplish in the movie. However, one report said she will be working with Loki on a scheme, and she'll have over the "dead souls" across the Nine Realms. Could she be the one trying to unleash Ragnarok?
Valkyrie
Last year, it was rumored that Thor: Ragnarok would introduce a new female hero, which many suspected would be Valkyrie. Then last month, it was reported that Creed's Tessa Thompson joined the movie as a mysterious hero, and not long after, this hero was said to be Valkyrie. This casting is official now, meaning that Asgard now has another hero to protect it and the rest of the MCU. In the comics, Brunnhilde was born as a normal Asgardian, but was eventually selected by Odin to lead the Valkyrior, warrior goddesses who led select fallen mortal soldiers into Valhalla (though eventually they were just limited to Asgardians). In the modern era, Valkyrie, like Thor, spends a fair amount of time keeping humanity safe, and she's been a member of teams like the Defenders and the Secret Avengers. So we can count on her teaming up with Thor to prevent mass destruction, and following that, moviegoers can expect to see her in other Marvel movies.
Lady Sif's Absence
Although it wasn't noted in the main press release, it was reported that Jamie Alexander will not reprise Lady Sif in Thor: Ragnarok, as it conflicts with her NBC series Blindspot. It's a shame, because Sif has been one of Thor's closest allies in the MCU. In the previous two movies, she and the Warriors Three were invaluable to the God of Thunder, from tracking him down when he was powerless on Earth to helping sneak Loki out of Asgard. It was also hinted that she had romantic feelings for Thor, and with Natalie Portman not returning as Jane Foster, some wondered if something would spark between Thor and Sif in Thor: Ragnarok. For now, that seems unlikely, but shortly after this casting news hit, Alexander answered fan concerns with a sly "Don't worry ;) …." This could just mean that she has other work to keep her occupied, but best case scenario, maybe she'll return as Sif for a minor appearance.
Connoisseur of Marvel, DC, Star Wars, John Wick, MonsterVerse and Doctor Who lore. He's aware he looks like Harry Potter and Clark Kent.
Your Daily Blend of Entertainment News
Thank you for signing up to CinemaBlend. You will receive a verification email shortly.
There was a problem. Please refresh the page and try again.