New Rampage Set Image Reveals First Look At The Rock And Naomie Harris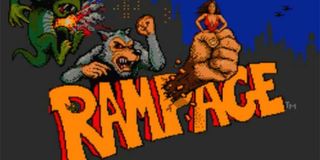 Dwayne Johnson has battled every type of bad guy imaginable. From terrorists to drug lords, and even earthquakes, the man has brought down all sorts of evil in his time as Hollywood's biggest star. Now it's time for him to pick on something his own size. All eyes are on his upcoming blockbuster Rampage to cause some massive destruction when it lands in theaters next year, and The Rock has just shared a set photo of him and co-star Naomie Harris in a bit of a tight spot. Check out the picture below.
That photo gives us a bare-bones look at what we can likely expect from Dwayne Johnson and Naomie Harris when Rampage finally debuts next year. Based on that picture, it appears that Johnson and Harris will find themselves on the run from the law at some point during the narrative of the film -- or they will at the very least not go willingly to fight the movie's central monsters. That part does not surprise us, as a reluctant hero is pretty much screenwriting 101. Whatever larger threat is looming, Johnson's character likely won't want to face it until he understands the gravity of the situation.
Based upon everything that we know about Rampage's storyline, it sounds like the upcoming adaptation of the classic video game series will stick fairly close to the original narrative -- albeit with a twist. The Rampage arcade games primarily focused their stories on the three central monsters (an ape, a lizard, and a wolf), but the film will seemingly go the more traditional route and make these creatures the bad guys for Dwayne Johnson and Naomie Harris to fight. The film will also bring in several other familiar Hollywood faces, such as Watchmen's Malin Ackerman, The Walking Dead's Jeffrey Dean Morgan, and (possibly) future Deathstroke actor Joe Manganiello.
It will also be interesting to see how Rampage fares, when we consider the sheer amount of monster movies that are currently on the horizon. The kaiju genre has experienced a massive resurgence in recent years with films like Godzilla, Kong: Skull Island, and the Pacific Rim franchise, and it is only going to get more crowded. Rampage has a lot going for it between Dwayne Johnson's star power and the nostalgia for the original games, but it will undoubtedly prove intriguing to see how it can perform against bonafide icons like Godzilla (who is quite literally King of the Monsters) and King Kong. Dwayne Johnson has obviously developed a reputation as "franchise Viagra" during his time as a movie star, so if anyone has a chance to make Rampage a hit, it is him.
CinemaBlend will keep you up to date with any and all relevant updates related to Dwayne Johnson's upcoming role in Rampage as new information related to the project becomes available to us. The action-packed adventure will blast its way into theaters on April 20, 2018.
Originally from Connecticut, Conner grew up in San Diego and graduated from Chapman University in 2014. He now lives in Los Angeles working in and around the entertainment industry and can mostly be found binging horror movies and chugging coffee.
Your Daily Blend of Entertainment News
Thank you for signing up to CinemaBlend. You will receive a verification email shortly.
There was a problem. Please refresh the page and try again.