Will Smith Is Really Taking His Time As A Cannes Judge Seriously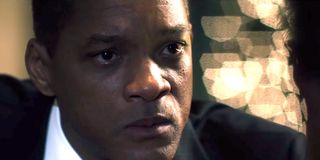 It was something of a surprise when it was announced that Will Smith would be on the jury at the 2017 Cannes Film Festival. It's not just that none of his films have ever been entered into the festival, it's also that none have ever looked like entering into the festival. But Will Smith is ready to embrace his involvement at the Cannes Film Festival, as he's revealed that he plans on watching 3 films a day, and is every going to make sure that he's in bed and asleep at a reasonable hour so that he can be focused at his 8:30 AM screenings. Will Smith made this admission at the Cannes Film Festival jury press conference, but at first he recalled how he was originally invited to the event. Will Smith remarked,
But while Will Smith is definitely taking his role as a Cannes Film Festival judge incredibly seriously, the actor is still being the energetic and charming ball of energy that has made him one of the most popular actors of the last 20 years. The good folks over at Vulture insisted that Will Smith took the Cannes Film Festival jury press conference by storm, and was cracking jokes and clearly having an absolute blast throughout the entire discussion. In fact, Will Smith even managed to drop a Fresh Prince Of Bel-Air reference into one of his answers. Because after being asked whether he was excited about the festival, Will Smith responded,
There was more, though. Because Will Smith also joked that he plans on rivaling the 28 outfit changes that Kirsten Dunst made over 12 days last year when she was a jury member. Will Smith insisted that he is now aiming to do 32, before then joking that the sweaty and sweltering conditions down in the south of France will probably lead to him making quite a few costume changes. Will Smith is now just two days into his tenure as a Cannes Film Festival judge, which runs until May 28.
Your Daily Blend of Entertainment News