That Time Michael Shannon Got Really Drunk After Losing At The Oscars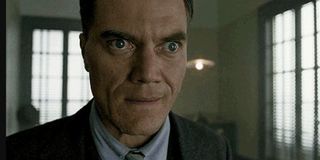 Pretty much every actor that has ever been in contention for an Academy Award has insisted that it was an honor just to be nominated. But it doesn't sound as though Michael Shannon felt quite the same way, because he has now admitted that after he we lost the Best Supporting Actor award to Heath Ledger (The Dark Knight) back in 2008, he proceeded to get preposterously drunk. But his rambunctious behavior didn't stop there, because Michael Shannon confessed that he was so inebriated he slipped into an English accent, that he proceeded to use in front of one of Britain's very best actresses. Michael Shannon opened up about he started to go down this slippery slope by recalling,
That year Michael Shannon had been nominated for the Academy Award for Best Supporting Actor after his performance as John Givings in Revolutionary Road. Despite the fact that the film also starred Leonardo DiCaprio, Kate Winslet, and Kathy Bates, Michael Shannon was the only member of its cast to earn a nomination. Kate Winslet could console herself with the fact that she'd been nominated for a Best Actress Academy Award her role in The Reader, though.
Because the Best Supporting Actor award is handed out very early on in the ceremony, Michael Shannon knew that Heath Ledger had posthumously been named the winner with hours of the event still left to go. It was pretty much a given that the Australian was going to claim the prize, as he'd won the Golden Globe, BAFTA Award, and Los Angeles Film Critics Association Award in the lead-up to the Oscars. But while fellow nominees Josh Brolin (Milk), Robert Downey Jr. (Tropic Thunder), and Philip Seymour Hoffman (Doubt) each courteously applauded Heath Ledger's success, Michael Shannon already had one eye on the bar.
As soon as the opportunity presented itself, Michael Shannon headed straight for the booze, and he admitted to David Edelstein at the Vulture Festival, via Entertainment Weekly, that he quickly consumed "like 20 gin and tonics." Nicely sauced, Michael Shannon then made his way back to his seat, where he watched Slumdog Millionaire pick up eight Oscars from its ten nominations. Afterward, he went up to his Revolutionary Road co-star Kate Winslet and both boldly and drunkenly declared that she would win the Best Actress Oscar for her work in The Reader that evening. But after tapping her on the shoulder and making this prediction straight in her face, Michael Shannon was then informed by his partner Kate Arrington:
Fortunately for Michael Shannon, Kate Winslet did win the Best Actress Academy Award later that night, so all was instantly forgiven. Michael Shannon didn't reveal whether or not he got as equally tipsy earlier this year at the Academy Awards, when he was nominated for his performance in Nocturnal Animals but lost out to Mahershala Ali for Moonlight. Let's just say that he did, and then used his drunken clairvoyance to predict the entire Moonlight and La La Land Best Picture debacle, but was just too wasted to actually do anything about it.
Your Daily Blend of Entertainment News
Thank you for signing up to CinemaBlend. You will receive a verification email shortly.
There was a problem. Please refresh the page and try again.