Oscar Rewind: What The Academy Got Right, And Very Wrong, 10 Years Ago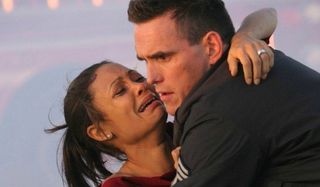 This coming Sunday marks the 88th occasion when Hollywood has collectively slapped itself on the back for a year of well-crafted movies. But the previous 87 Academy Awards haven't unfolded without their fair share of issues. There have been streakers, painfully awkward speeches, and unlikely and contentious victors. In fact, with the latter in mind, there was no more divisive an Oscars ceremony than 2006's 78th Academy Awards, which was hosted by Jon Stewart, delayed a week because of the Winter Olympics, and saw some truly bizarre Academy Award recipients. 
Want to relive the madness? Of course you do. So take a rewind to 10 years ago, and check out the winners that the Academy got right and very, very wrong that year.
What They Got Wrong: Crash Won Best Picture
Easily the most controversial decision of the night saw the Academy Awards hand Paul Haggis' Crash the Best Picture accolade. Crash was met with some positive but mainly mixed reviews upon its release for the rather simplistic way that it merged and meandered together its various tales about social and racial tensions across Los Angeles. So the fact that it beat the hugely fancied Brokeback Mountain, a critical darling that was showered with praise for its raw, romantic, but luscious tale of two men falling in love, was met with audible gasps in the Kodak Theatre on Oscar night.
But it wasn't just Brokeback Mountain that should have felt overlooked. The subtle yet prescient Good Night, And Good Luck from George Clooney and Grant Heslov would have been a more worthy victor, as would have Batman Begins, the genre-defining origin story for Bruce Wayne from Christopher Nolan. Alas, as the Academy have repeatedly shown, they're not willing to celebrate comic-book movies at their annual gathering, with Batman Begins not even receiving a nomination. Instead, much to the Academy's shame, they're more than happy to reward sappy, gawkish and overly sentimental pap that is nowhere near as profound as it thinks it is.
What They Got Right: Philip Seymour Hoffman Won Best Actor For Capote
An absolute no-brainer, Philip Seymour Hoffman wasn't just one of the most respected and popular actors working in cinema back in 2006, but it was widely regarded that this was just the start of his Academy Award collection. Instead, 10 years after Philip Seymour Hoffman picked up his solitary Academy Award for Best Actor as Truman Capote in Bennett Miller's Capote, and just over two years after his untimely passing, all we can do is think of what could have been.
What makes the fact that Philip Seymour Hoffman won the Best Actor Oscar for Capote all the more remarkable is that it's probably not even in his Top 10 performances. Yet, despite towering portrayals from Heath Ledger (Brokeback Mountain), Joaquin Phoenix (Walk The Line), and David Strathairn (Good Night, and Good Luck) in 2005, Philip Seymour Hoffman's work in Captote was still far and away the best of the year. It's just absolutely devastating that he was unable to add to his four Oscar nominations, which he undoubtedly would have.
What They Got Wrong: Andy Serkis Was Overlooked For King Kong
It says a lot about George Clooney's performance in Syriana that I actually completely forgot he'd won a Best Supporting Actor Oscar for it. Stephen Gaghan's ambitious and intricate political drama pines to be taken seriously. So it was no surprise that the Academy Awards found space to reward it by handing George Clooney his gong, especially since, in the same year, he'd written, directed, and starred in Good Night, and Good Luck, too. But, if we're all being honest, George Clooney's Syriana performance is akin to half a dozen others from the actor.
Meanwhile, Andy Serkis' performance capture portrayal of the eponymous King Kong pushed the medium of cinema forward, as the actor proved that you could add an emotional complexity to a character through its usage. At the same time, Serkis is utterly engrossing and powerful as King Kong, bringing the oversized ape to life in an authentic but still cinematic and relatable manner that really deserved to be acknowledged. Serkis was mastering Mo-Cap at the time, but the Academy still doesn't see it as acting. Maybe, in time.
What They Got Right: Reese Witherspoon Won Best Actress For Walk The Line
I'm not a huge Walk The Line fan. Johnny Cash's life and career was a huge, "Fuck you," to the constraints of the music industry, so the fact that his cinematic adaptation repeatedly descends into formulaic tropes and plotting was a huge disappointment. But, despite these issues, Walk The Line still prospers because of the leading performances of Joaquin Phoenix as Johnny Cash and the feisty and driven Reese Witherspoon as June Carter Cash, who crackle and simmer with a romantic and sexual energy that is glorious to watch unfold.
But while Joaquin Phoenix's path to Oscar glory was blocked by a certain Philip Seymour Hoffman, Reese Witherspoon didn't have the same issues. In fact, in the same way that Leonardo DiCaprio's Oscar glory for The Revenant is almost a certainty, Reese Witherspoon's name was practically already etched into the Best Actress gong way before her name was read out by Jamie Foxx. It speaks volumes of just how good a performance it was that no one had a problem with that, too.
What They Got Wrong: Kiss Kiss Bang Bang Wasn't Nominated For Best Original Screenplay
While Crash was a much more worthy winner of its Best Original Screenplay Oscar than the Best Picture accolade that it would pick up later in the night, there was one gaping omission from the nomination's list that meant its victory was always going to ring hollow. While the celebrated writing talents of Woody Allen (Match Point), Noah Baumbach (The Squid And The Whale), and George Clooney and Grant Heslov (Good Night, And Good Luck) each earned nominations, any screenplay that has the name of Shane Black on its front page deserves to be equally as honored as work from this trio.
And Shane Black has never been wittier, more biting, or more outrageous than with Kiss Kiss Bang Bang. It also helps that Black, who directed as well as wrote the action comedy, cast the film perfectly, with Robert Downey Jr. and Val Kilmer uttering the lines of his script in a fast, furious, and thoroughly entertaining fashion. Simply put, the world of cinema needs more of Shane Black. So do the Oscars, for that matter.
What They Got Right: Wallace & Gromit: The Curse Of The Were-Rabbit Won Best Animated Film
With Nick Park having previously won the Academy Award's Best Animated Short Film on three separate occasions, it was no surprise when his elongated animated effort Wallace & Gromit: The Curse Of The Were-Rabbit took home the Best Animated Feature back in 2005. Even the fact that it beat Hayao Miyazaki's Howl's Moving Castle and Tim Burton's Corpse Bride to claim the prize was met with little dissent.
That's because, as anyone who has ever seen Wallace & Gromit: The Curse Of The Were-Rabbit can attest, the gloriously over-the-top, eccentric, and energetic animated jaunt through northern England is just a joy to watch unfold. Peppered with slapstick humor and visual gags that men, women, and children of all ages can enjoy, while at the same time touching and emotional, and never even close to boring, Wallace & Gromit: The Curse Of The Were-Rabbit is the pinnacle of Aardman's output, and right up there with anything the animated genre has ever produced. Yep, including Pixar.
What They Got Wrong: Sin City Didn't Get A Best Adapted Screenplay Nod
The Academy has always had a problem celebrating the comic-book genre. It's a problem that's still rife to this day, with the genre's biggest Oscar triumph only coming after Heath Ledger's death led him to pick up a posthumous Best Supporting Oscar gong for his turn as The Joker in The Dark Knight.
One of the biggest Academy oversights when it comes to the comic-book genre was its refusal to reward Sin City. While a Best Director nomination for Robert Rodriguez and Frank Miller was always going to be a long shot, it would have been justified if the duo's work adapting Frank Miller's comic-book series of the same name had been. Expertly plotted, with a superb mix of action and characterization, Sin City's success both critically and financially helped to legitimize the genre. Surely it's about time that the Academy began to recognize it, too.
What They Got Right: Ang Lee Won Best Director For Brokeback Mountain
Crash's victory in the Best Picture field often overshadows the fact that Brokeback Mountain took home just as many gongs (3) as its rival. While Crash picked up Best Original Screenplay, Best Film Editing, and Best Picture, Brokeback Mountain claimed Best Adapted Screenplay, Best Original Score, and Best Director. Sure, Crash probably comes just out on top because of its Best Picture accolade, but Ang Lee's unassuming work in the latter category made the lasting cinematic impression, as not only is it poignant, artistic, and poetic, but it also paved the way for stronger gay characters and films in mainstream cinema.
As usual, Ang Lee casually and patiently builds up the audiences connection to both the characters and story, while at the same time subtly taking advantage of the heavenly landscape that perfectly suites the romantic story. All of which makes it even more peculiar and infuriating that the Academy still rewarded Crash instead of Brokeback Mountain in the Best Picture category.
Your Daily Blend of Entertainment News
Thank you for signing up to CinemaBlend. You will receive a verification email shortly.
There was a problem. Please refresh the page and try again.