5 Wonder Woman Stories To Check Out Before The Movie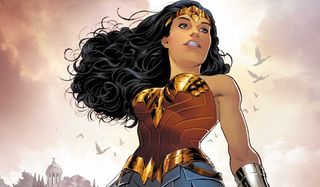 After years of languishing in development hell, the Wonder Woman movie is only a few days away from hitting theaters. Gal Gadot's iteration of the powerful Diana impressed a lot of moviegoers last year in Batman v Superman: Dawn of Justice, and now we'll learn how she became the hero we saw fighting Doomsday alongside the Man of Steel and Caped Crusader. But Wonder Woman doesn't have to just be enjoyed on the big screen. She has plenty of other stories to check out, ranging from her earliest Golden Age comic book appearances to the current Rebirth book (one of my favorites) to other media.
There's a lot of Wonder Woman material that's been released for more than 75 years, but we've narrowed down the five best stories to check out before you see her movie and even for afterwards if you found it as enjoyable as most reviews indicate it will be. Let's start with one of her printed page tales.
Wonder Woman: Blood
Like the rest of the DC universe, Wonder Woman's history was rebooted in 2011 with the New 52 initiative. Writer Brian Azzarello and illustrator Cliff Chiang kicked off Diana's adventures in this new continuity, placing extra emphasis on her connections to Greek mythology and changing her history so that instead of being sculpted from clay and being brought to life by the gods, she is the natural-born daughter of Hippolyta and Zeus. Much of Wonder Woman's characterization in the DCEU is inspired by the New 52, so these are the first to first check out if you are enamored with Diana's cinematic solo adventure. If you like Wonder Woman: Blood, Azzarello's run (opens in new tab) lasted for five more volumes, so you'll have plenty of action-packed stories to tide you over in the days/weeks after seeing the movie.
The Wonder Woman 1975 TV Pilot
Until the release of the Wonder Woman movie, Diana's 1970s TV series was the height of her pop culture fame. Much like Christopher Reeve's Superman, Lynda Carter's Wonder Woman is the iteration many people turn to when thinking about the heroine. No doubt most of you reading this have seen at least a couple episodes from the TV series, but for the few of you who missed it, start at the beginning like you would with other shows. Set in World War II (like the original comics), the 1975 Wonder Woman movie pilot followed Diana rescuing Steve Trevor when he crash-landed on Themyscira, returning with him to Washington D.C. and establishing the Diana Prince identity so she could aid the Allied Forces on two fronts. All of Season 1 remained set during the Second World War, while the latter two seasons were set in the 1970s, with Diana working alongside Steve Trevor's son, Steve Jr. (also played by Lyle Waggoner).
Wonder Woman: Earth One
DC's Earth One line of graphic novels take place outside of the main DC comics continuity, allowing the respective creators to uniquely twist the mythology of these legendary heroes. Years in the making, Wonder Woman: Earth One, written by Grant Morrison and illustrated by Yanick Maquette, radically alters the typical Wonder Woman origin tale by having Diana placed on trial by her fellow Amazons for leaving Themyscira and accompanying Steve Trevor back to "man's world." Whether you're a newcomer to Wonder Woman or have read a few of her stories and are looking for something different, Wonder Woman: Earth One is a tale that both pays tribute to her classic roots and puts a modern spin on her superhero beginnings.
Wonder Woman (2009 Animated Movie)
DC has experienced a lot of success with animation over the years, and while we definitely suggest checking out the Justice League and Justice League Unlimited shows to see one of the best adaptations of Wonder Woman (specifically the story "Paradise Lost"), you should watch her 2009 animated movie if you want to see her at her best front and center. The movie tells her origin, i.e. meeting Steve Trevor, going to "man's world," etc. It also features many of the Greek mythological characters who part of her history, including Ares, who is the main antagonist, just like in the live action movie. DC recently released the Wonder Woman Commemorative Edition, so now is an excellent time to pick up one of the best DC Animated Original Movies either on Blu-ray or Digital HD.
Wonder Woman: Gods And Mortals
Although Wonder Woman has been an important comic book character since the early 1940s, it was writer George Perez's run in 1986 following the gigantic Crisis on Infinite Earths event that reshaped her world to the point that it's inspired almost everything that's come after. The first issues followed Diana as she embraced her role of Themyscira's ambassador to "man's world" and trying to spread peace across the globe. Perez was originally only supposed to write Wonder Woman for six months, but because of the positive critical reception of his stories, he stayed on for five years. So whether you want to splurge on the omnibus collections of Perez's run or check out the new trade paperback collections DC is slowly releasing, this era of Wonder Woman is a must-read for anyone passionate about the character.
Connoisseur of Marvel, DC, Star Wars, John Wick, MonsterVerse and Doctor Who lore. He's aware he looks like Harry Potter and Clark Kent.
Your Daily Blend of Entertainment News
Thank you for signing up to CinemaBlend. You will receive a verification email shortly.
There was a problem. Please refresh the page and try again.