Hey DC, Give Patty Jenkins Man Of Steel 2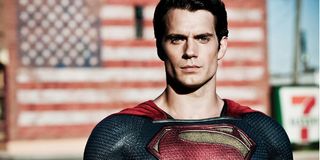 Back in 2013, Zack Snyder's Man of Steel marked the beginnings of the new cinematic adventures of Superman. Sure, it may not have been the movie everyone would have expected, but there were still some shades of the character we'd all grown up knowing and loving. But as time has passed in the DC Extended Universe, with films like Batman v. Superman: Dawn of Justice and Suicide Squad repping the brand, the franchise caught a mixed bag of criticisms. Luckily now, there's a new hero in the DCEU. You can feel it in the successful triumph of character over spectacle in Wonder Woman, as director Patty Jenkins reinvigorated the world of gods and humanity in her own special way. With this in mind, the path for the land of the Justice League is clear: Ms. Jenkins should be given that chance to clean up the streets of Metropolis in Man of Steel 2.
The big reason that Man of Steel 2 should be going into Jenkins' skilled hands is the fact that she's done what other directors in the new DCEU haven't: she valued the quiet moments, and played out action as well as she does exposition. While it's true that Wonder Woman itself has some narrative flaws, as well as some nitpick worthy quandaries in its finished product, the film overcomes those aspects with the fact that you really like the heroes, and want to spend more time with them. Of course, most of that could be attributed to the writers, and we'd be remiss if we didn't mention that Zack Snyder was one of the initial architects of the film's story.
Which leads us to the fact that while Patty Jenkins may not have written the story for Wonder Woman, she did breathe life into it. Everything from the actual color palette her film uses, to the lush, period-friendly costuming and even the framing of the action beats, shows that Jenkins has as fantastic of an eye for visuals as she does for story. And just because she didn't lift a pen doesn't mean she didn't have a hand in the actual shaping of the story, as she was still the person to select the director of photography, editor, and even the film's musical composer, ultimately shaping the intent of those words into what we saw before our very eyes.
Now it's easy to say that Patty Jenkins should be focused on directing Wonder Woman 2, or even that she should be brought on to replace David Ayer in Gotham City Sirens. Hell, a very compelling case could be made for giving Jenkins the reins to the entire DCEU film series. But with both of those previously mentioned films not being an immediate going concern, and with Superman being one of DC's most valued trinity of heroes in this film universe, the fact remains that his "new" image severely needs some rehabbing. Much like Ben Affleck and Matt Reeves will shepherd in a new age of The Batman, Patty Jenkins should usher in the renaissance of Clark Kent and his heroic alter ego.
But perhaps the best part of handing Man of Steel 2 to Ms. Jenkins and her team is the fact that she can also rehab the image of a similarly important character in the DC Universe. With Amy Adams' Lois Lane being similarly mishandled in the previous films she's been involved in, you can be assured that Jenkins' skills would make an actual character out of the walking cliché that Lois has become after Batman v. Superman: Dawn of Justice. Also, to have Adams working alongside Jenkins gives us potential goosebumps, considering that she not only brought a pretty powerful performance out of Wonder Woman's Gal Gadot, but she also nabbed Charlize Theron an Academy Award with their collaboration on Monster. Patty Jenkins understands the importance of strong female leads, much like she understands the importance of storytelling, and could be a good fit with the portrayal of Lois Lane, as well.
Of course, should DC and Warner Bros. offer Jenkins the job, and should she accept, the potentially amazing Man of Steel 2 could be her ticket to helping rule the DCEU roost. Wonder Woman is a solid as hell audition that shows her directorial powers are more than comfortable in the world of large budget storytelling, so it's really not a matter of if she should be returning to the comic book parade, but when. Ideally, she'd be back very soon to bring to life another four panel epic in living, live action color, and if we're fortunate enough to see such a thing happen so soon, let's hope that Superman and Lois Lane get their chance to shine again under Patty Jenkins' watchful eye.
CinemaBlend's James Bond (expert). Also versed in Large Scale Aggressors, time travel, and Guillermo del Toro. He fights for The User.
Your Daily Blend of Entertainment News
Thank you for signing up to CinemaBlend. You will receive a verification email shortly.
There was a problem. Please refresh the page and try again.