Batman Solo Movie: Everything We Know So Far About The Batman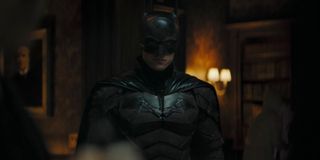 CinemaBlend participates in affiliate programs with various companies. We may earn a commission when you click on or make purchases via links.
Out of all the DC movies slated to hit theaters on the 2022 movie releases schedule, the one that seems to have the most people excited is The Batman, which is expected to launch a potential trilogy surrounding a younger version of the Caped Crusader. And that very much seems to be the case with the casting of Robert Pattinson in the leading role, who joined the project following the departure of Ben Affleck in 2019.
The latest of the live action Batman movies has had its fair share of ups and downs and starts and stops ever since it was first announced, and matters were only made worse when the COVID-19 pandemic essentially shuttered film productions and closed down theaters around the world in early 2020. But with plenty of good news surrounding the production ever since, let's get the ball rolling with what we know so far about the solo Batman movie.
The Batman Is Set For A March 2022 Release Date
Warner Bros. initially planned on releasing The Batman as a summer blockbuster with a June 25, 2021 release date, but the production standstill forced the studio to push the premiere a few months down the road to October 1, 2021. That meant James Gunn's The Suicide Squad would beat it to the theaters on August 6- a date it still holds today.
However, production was forced to shut down a second time after Robert Pattinson and his stunt double both reportedly tested positive for COVID-19 in September 2020. By the next month, The Batman was postponed again to its current set date of March 4, 2022.
Robert Pattinson Is Playing The Batman
After Ben Affleck retired from playing Batman at the beginning of 2019, in the following May, Robert Pattinson was reported to be Warner Bros' pick for their new live action Dark Knight, though it was later reported that X-Men movies star Nicholas Hoult was also a finalist. Both actors reportedly screen tested for The Batman, and by the end of that month, Pattinson won the Batman mantle.
Most people remember Robert Pattinson for playing Edward in the Twilight movies, but since that franchise ended, Pattinson has been keeping his career going with a variety of smaller projects, like Cosmopolis or Good Time. In 2020, Pattison appeared in Christopher Nolan's Tenet, so the one-time heartthrob has not only expanded his acting abilities, but also worked with the man responsible for some of the best Batman movies ever released. We'll have to wait and see how his Batman differs from the previous live action versions, but depending on how The Batman is received, this could end up replacing Twilight as what Pattinson is remembered best from.
Matt Reeves Is Directing The Batman Movie
Shortly after Ben Affleck's Batman was seen one of the best aspects of Batman V Superman: Dawn of Justice, Warner Bros. set about getting him much more involved in the DCEU. He and Geoff Johns began collaborating on a script for the solo Batman solo movie with Affleck directing until he dropped out to focus on acting and War for the Planet of the Apes' Matt Reeves was subsequently brought onboard.
This major shakeup means other individuals have significantly reduced roles in the upcoming film. There seems to be no indication that Zack Snyder has any involvement (other than the HBO Max release of the Justice League Snyder Cut, he has been off the DCEU for some time now), and Batman V Superman producer Charles Roven has also been reassigned to have a much less significant, hands-off role with all of DC's solo movies. Matt Reeves seems to have major control over the future of the Batman franchise, which in turn means that he also has plenty of control over the greater DCEU.
Paul Dano, Zoë Kravitz And More Play The Batman Movie Villains
Just like essentially every Batman movie since the 1992 release of Batman Returns, The Batman will feature at least two of the Caped Crusader's most formidable foes, or three depending on how you see a certain feline-inspired burglar. Here are the members of the Dark Knight's rogues gallery who are confirmed for the 2021 comic book movie.
Paul Dano As The Riddler / Edward Nashton
In October 2019, it was confirmed that Paul Dano, who gave scene-stealing performances in There Will Be Blood, Prisoners, and countless other feature films, had joined the cast as Edward Nashton, also known as the Riddler (who has also been known as Edward Nygma in the comics). Anyone who has paid attention to the methodical and cerebral acting style used by Dano knows that there are few actors better equipped to take on the role of the enigmatic trickster, which seems to be much darker than any other iteration of the character. In the DC FanDome's The Batman panel, director Matt Reeves revealed that this version of the character isn't like anything we've seen before, and judging by the trailer (which we will talk about soon), he's not lying.
Zoë Kravitz As Catwoman / Selina Kyle
For the fourth time in the history of Batman movies, Selina Kyle, a.k.a. Catwoman, will fit into the plot of The Batman one form or another as it was confirmed in October 2019 that Zoë Kravitz would be the latest actress to play the sometimes ally and sometimes enemy of the Caped Crusader. Longtime comic book fans will be relieved when they hear that Kravitz, conducted her fair share of research when preparing for the role, including reading the iconic Batman: Year One comic and voicing the character in The LEGO Batman Movie in 2017. Matt Reeves said at DC Fandome that Selina Kyle will not yet be Catwoman as fans know her and that her journey will be a major part of the upcoming movie.
Colin Farrell As Penguin / Oswald "Oz" Cobblepot
The Riddler won't be alone in whatever plans he has cooked up for Batman as crime lord Oswald Cobblepot, better known as Penguin, will also be a major player in Matt Reeves' version of Gotham City - a version the director said detests his iconic nickname. It was confirmed in January 2020 that Colin Farrell would be taking on the role of one of the Dark Knight's most notorious adversaries in the upcoming movie. And if comments made by the Irish actor in May 2020 are to be believed, Farrell will be going all out in his depiction of Penguin.
John Turturro As Carmine Falcone
In addition to the big-time villains of Gotham City appearing in The Batman, it appears an often underused and underrated foil of the Dark Knight will have his hands in the happenings of the upcoming movie as it was revealed in November 2019 that mob boss Carmine Faclone would have a featured role, this time played by John Turturro. Falcone has only been featured in one live action movie over the years — portrayed by Tom Wilkinson in Christopher Nolan's Batman Begins — but even then he helped set up Bruce Wayne's transition from billionaire playboy to the masked vigilante that strikes fear in the hearts and minds of Gotham's criminals.
The Batman Cast Also Includes Jeffrey Wright, Andy Serkis, Peter Sarsgaard And More
Bruce Wayne and his enemies are not the only characters getting new actors in Matt Reeves' The Batman, as some of the Dark Knight's biggest allies will also be portrayed by different actors when the movie hits theaters. Below is a list of other characters (including Commissioner James Gordon and Alfred Pennyworth) who will be featured in the upcoming comic book adventure.
Jeffrey Wright As James Gordon
Although the character of Gotham Police Commissioner James Gordon was recently portrayed by J.K. Simmons in Justice League, it appears Matt Reeves is going in a different direction for The Batman, as veteran actor Jeffrey Wright has been cast as one of Batman's most trusted allies. The star of the HBO series Westworld was initially attached to the project in late 2019, but it was confirmed shortly after that Wright would be the latest talented actor to don the trademark glasses and mustache made famous by the top cop in Gotham.
Andy Serkis As Alfred Pennyworth
Rumors that Andy Serkis (who appears in literally everything) would be shifting over from Marvel to DC began to swirl in 2019, but it has since been confirmed that the extremely talented actor would be teaming up with his Planet of the Apes director Matt Reeves once again in The Batman. Serkis will be playing Bruce Wayne's longtime caretaker and confidant Alfred Pennyworth. Jeremy Irons had previously taken on the role in the previous DCEU productions, but like J.K. Simmons, he was replaced ahead of The Batman.
Peter Sarsgaard As Gil Colson
When you hear of a middle-aged actor playing a district attorney in Gotham City, you automatically assume that person will be playing none other than Harvey "Two Face" Dent, but that remains to be seen for Peter Sarsgaard's portrayal of Gil Colson in The Batman. Sarsgaard, whose last appearance in a comic book movie was the 2011 Green Lantern adaptation, has gone on the record saying that Colson is essentially a politician that has a problem telling the truth, which doesn't sound like the guy with the "I Believe in Harvey Dent" campaign slogan.
Jayme Lawson As Bella Reál
Rounding out the non-villainous cast members is Hollywood newcomer Jayme Lawson, who will be playing Gotham mayoral candidate Bella Reál, though not much is known about the character. Lawson, a graduate of Julliard, will be making her film debut in The Batman, so surely director Matt Reeves saw something in her.
The First The Batman Trailer Was Revealed At DC FanDome
If Matt Reeves' DC FanDome panel wasn't exciting enough, the filmmaker concluded his presentation by revealing the first The Batman trailer. Although it came in at a little over two minutes in length, the teaser trailer provided a great deal of information about the upcoming DC movie, including shots of Batman showing off his detective skills with Jim Gordon as well as his brutal hand-to-hand combat skills against a group of thugs. In addition to some great Dark Knight footage, the trailer also showed what appeared to be Paul Dano's The Riddler, Colin Farrel's Oswald Cobblepot, and a few glimpses at Zoë Kravitz in the role of Selina Kyle
The Batman Movie Is Not Canon With The DCEU
After Justice League underperformed, the "shared universe" method doesn't seem to be on DC and Warner Bros' radar. In fact, the party line out of the DCEU headquarters is that there's no longer a concerted effort to make solo movies like 2018's Aquaman, 2020's Wonder Woman 1984, or James Gunn's new reimagining of The Suicide Squad to connect with on another.
Instead, it appears that DC films are shifting toward that "DC Multiverse," as the DC FanDome panel "Multiverse 101" helped explain. President of DC Films Walter Hamada noted that characters featured in Justice League exist on one version of Earth while Matt Reeves' The Batman and Todd Phillips' Joker exist in their own individual Earths, stating that, "obviously, there are outliers like Joker, which doesn't exist in either Earth, but that's okay, it's all part of the Multiverse. Matt Reeves can continue to build out his Gotham, and he's got great plans to build it out and build it out in a way that's innovative."
The Batman Movie Is Set Months Into Bruce Wayne's Crusade Against Crime
Similar to Tim Burton's 1989's Batman, Matt Reeves' upcoming The Batman won't focus on how Bruce Wayne becomes the Dark Knight, but instead tells his story more than 18 months into his journey, which the director described as being "Year Two" in the DC FanDome panel. Reeves explained that the movie will touch on Batman dealing with his failures to become the beacon of hope after his first year on the streets and his grand experiment, revealing:
Referring to the various murders allegedly carried out by The Riddler seen in the first trailer for The Batman, Matt Reeves explains that these heinous crimes will begin to tell the story of dark and corrupt history of Gotham City and how that past will have an impact on Bruce Wayne and the city around him, explaining:
What Is The Batman Movie's MPAA Rating?
It still remains to be seen whether The Batman will break from the norm of superhero movies and have an R-rating or if DC Comics and Warner Bros. stick with the traditional PG-13. There's a case to be made for both ratings, especially after Joker became the most profitable comic movie of all time in 2019. The Harley Quinn-led Birds of Prey even had an R-rating, which is a major departure from the studio's decision to release a toned down PG-13 Suicide Squad in 2016.
If DC and Warner Bros. decide on releasing an R-rated Dark Knight movie, it wouldn't be a first for the character as the Ultimate Edition of Batman V Superman: Dawn of Justice had a restricted rating (on home release), as did the animated adaptation of Batman: The Killing Joke and Zack Snyder's Justice League on HBO Max. That being said, there's clear precedent for the studio to eventually release a Batman adventure featuring more adult-oriented content at some point.
At the same time, comic book movies have traditionally gone for a PG-13 rating in order to get as many people into theaters as possible, so it's very likely that Warner Bros. and DC will play it safe and go for the more inclusive rating, especially after trying to make up for lost revenue when theaters were shut down in 2020. Judging by the way Batman mercilessly beat the ever-living crap out of the street thug with face paint reminiscent of a certain Clown Prince of Crime in the first explosive trailer and the introduction of the movie's version of The Riddler, the case could very well be made that The Batman ends up having an R-rating when it hits theaters.
The Batman Wrapped Filming In March 2021 Before Mid-July Reshoots Were Announced
When the first trailer for The Batman dropped during August 2020's DC Fandome ,only 25 percent of the movie had been shot. By the following March, fans and the actors and filmmakers celebrated that principal photography had finished and we only had its big screen release almost exactly a year later to look forward to.
However, it was announced in June 2021 that Robert Pattinson and co. would be heading to Glasgow to reshoot scenes for The Batman, which often sounds like a reason to worry about a film's future (especially with superhero movies) these days, but Batman's cinematic history so far is reason enough to stress the importance of keeping an open mind. Colin Farrell is also reportedly returning to the Scottish city to film his final scenes as Penguin.
Matt Reeves Has More Batman Related Content In Store On HBO Max
If you thought Matt Reeves' contribution to Gotham City was stopping at the big screen, think again. The director of The Batman, along with The Sopranos creator Terence Winter, is also executive producing a series centered on the Gotham City Police Department that will serve as a prequel to his upcoming film. First announced in the Summer of 2020, the currently untitled spin-off sees Jeffrey Wright return as James Gordon and will premiere exclusively on HBO Max on an unspecified release date.
Almost a year later, it was announced that Matt Reeves was joining forces with J.J. Abrams and Batman: The Animated Series co-creator Bruce Timm to continue the Dark Knight's legacy in animation (which some believe is the medium responsible for the character's best screen portrayals). Described as a new take on the hero's mythology, Batman: Caped Crusader will be presented in a unique, "cutting edge" animation style whenever it premieres on Cartoon Network. Each episode will also be available to stream on HBO Max the next day.
On top of the brimming anticipation for The Batman, Matt Reeves' tangentially related TV shows, and the return of Michael Keaton in the cape and cowl in The Flash (along with Ben Affleck in the same movie, too), I do not know if there has ever been a more exciting time to be Batfan.
Originally from Connecticut, Conner grew up in San Diego and graduated from Chapman University in 2014. He now lives in Los Angeles working in and around the entertainment industry and can mostly be found binging horror movies and chugging coffee.
Your Daily Blend of Entertainment News
Thank you for signing up to CinemaBlend. You will receive a verification email shortly.
There was a problem. Please refresh the page and try again.