Why John Lithgow Actually Talked Tim Burton Out Of Casting Him In Batman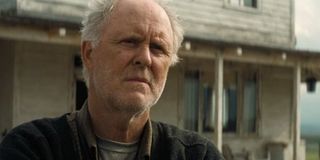 The legacy of Tim Burton's original Batman film is well established at this point. Whether you like the distinctive filmmaker's particular vision of Gotham City or not, there's no denying that his cast and crew had an enormous impact on the future of the comic book movie genre. On that note, while Jack Nicholson's Joker has become one of the (if not THE) definitive silver screen versions of the villain, Burton almost went in a wildly different direction by casting The Crown's John Lithgow as the Clown Prince of Crime. Lithgow recently opened up about the potential casting and admitted that he talked Burton out of casting him because he didn't believe the project would be taken seriously, saying:
Until Tim Burton's Batman debuted in theaters, the concept of a mature Batman film likely didn't seem feasible to mainstream audiences. In terms of live-action portrayals, the only real barometer that someone like John Lithgow had at the time was the campy Batman '66 TV series and Caesar Romero's energetic take on Joker. From that perspective, Lithgow's decision to get out of the gig seems understandable, albeit misguided in hindsight.
Once Lithgow convinced Burton that he wasn't right for the role, the director made his way down the list to other highly respected actors like Robin Williams and Jack Nicholson -- at which point the folly of his decision probably became quite apparent to him. Of course, the rest is history, because we all know who the role eventually went to in the end.
This isn't the only instance in which John Lithgow came close to portraying Batman's arch nemesis. He similarly was up for the role when director Joe Dante attempted to take a crack at the black-clad hero in the 1980s -- although that project ultimately fell through when Dante found himself too drawn to Joker as a focal point for the story. If he had only known the type of cultural fixture that Mr. J would ultimately become in movies like The Dark Knight and Suicide Squad, he probably would've followed through with the film.
At this point, it is worth mentioning that John Lithgow eventually would go on to carve out his own legacy as one of pop culture's most famous psychopaths. Although he admitted to Vulture that he regrets not taking the role of The Joker, he still managed to go on to portray The Trinity Killer on twelve episodes of Showtime's Dexter. It might not be a classic comic book character, but that terrifying performance has ensured that Lithgow will go down as one of the most chilling on-screen bad guys of all time.
At the end of the day, it's probably for the best that things turned out the way that they did. Jack Nicholson made history with his Joker performance, and Tim Burton's Batman has become a watershed moment in the history of the genre. The Caped Crusader will make his next appearance on the silver screen when Zack Snyder's Justice League debuts in theaters later this year on November 17.
This poll is no longer available.
Originally from Connecticut, Conner grew up in San Diego and graduated from Chapman University in 2014. He now lives in Los Angeles working in and around the entertainment industry and can mostly be found binging horror movies and chugging coffee.
Your Daily Blend of Entertainment News
Thank you for signing up to CinemaBlend. You will receive a verification email shortly.
There was a problem. Please refresh the page and try again.