Ghostbusters II Actor Who Played Baby Oscar Commits Suicide At Age 28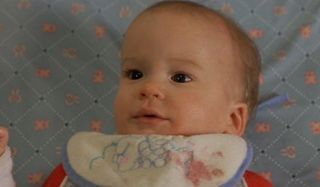 Henry 'Hank' Deutschendorf, one of the infant twins who portrayed Baby Oscar Barrett in 1989's Ghostbusters II, has passed away. This news was confirmed by Hank's twin brother William T. Deutschendorf, who revealed that Hank lost his fight against schizoaffective disorder on Wednesday, June 14th and took his own life. He was only 28-years-old.
According to TMZ, Hank Deutschendorf was found dead in his home in Escondido, California last week. In the wake of Hank's death, William has also created a BRB Foundation page that raises donations and awareness for the Brain & Behavior Research Foundation. This foundation looks to award grants that will lead to breakthroughs in scientific research for mental illness.
Both Hank and William, who are also the nephews of John Denver, were only a couple of months old when they were cast as Baby Oscar in Ghostbusters II. While they were both undeniably adorable in the role, and provided the perfect deadpan responses to Bill Murray's comedic efforts, the brothers also had quite a few stunts to perform. The most famous of which saw Oscar being yanked from the ledge of a building by a spirit that resembled Janosz.
However, despite starring in one of the biggest films of 1989, Ghostbusters II proved to be Hank and William's first and final acting performances. In fact, other than Ghostbusters II, their only other IMDB credit is for Cleanin' Up The Town: Remembering Ghostbusters, a documentary from Anthony Bueno that's due out in 2017.
Hank and William Deutschendorf went on to achieve great things with their martial arts school in the San Diego area, though. In recent years, their school has had 190 active students, and William Deutschendorf's impassioned tribute to his brother on the BRB Foundation page proves just how much he loved and respected his twin. It is in this tribute that William Deutschendorf provides further information regarding Hank's battle with schizoaffective disorder, revealing that he was originally diagnosed with it in August of 2008. This disorder combines bipolar with schizophrenia, and as a result Hank suffered from depression, mania, delusions, and hallucinations.
In order to try and combat the disease, Hank Deutschendorf had to take medication that curbed his vivacious, witty, and outgoing personality. William also revealed that in his final weeks Hank was contending with 25 voices. But because of the lack of research into schizoaffective disorder, which is often overlooked because it is a combination of bipolar and schizophrenia and can't be controlled in the same way, Hank was, in William's terms, "left with a band-aid for a gunshot wound."
Despite his issues, Hank was still able to excel in martial arts, studying in various styles, buying his own condo, and also finding the love of his life. Sadly, Hank Deutschendorf wasn't able to ever shake the effects of schizoaffective disorder, though, and he ultimately decided to take his own life at the age of 28.
Your Daily Blend of Entertainment News
Thank you for signing up to CinemaBlend. You will receive a verification email shortly.
There was a problem. Please refresh the page and try again.