Josh Duhamel Wants To Know What The Hell Happened To His Transformers Baby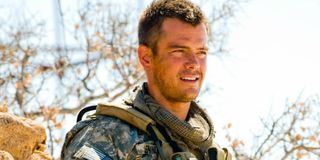 Those of you that can remember all the way back to 2007, and in particular the very first Transformers film, will be able to recall that the subplot to that blockbuster involved Josh Duhamel's Captain William Lennox trying to make it back to his family and young daughter in America after being attacked by Transformers. But don't feel too bad if you've forgotten about that story, because it appears as though the creative team behind the Transformers films have done exactly the same thing. Now, Josh Duhamel has revealed he wants to know exactly what happened to Lennox's baby, hopefully in a potential sequel to The Last Knight. The actor recently remarked,
Josh Duhamel made the above comments to me when I sat down with the actor in London over the weekend to discuss his return to the Transformers franchise with The Last Knight. Although it seems as if Michael Bay has no interest in returning to the story, there's always the chance that he might get to depict some of William Lennox's back-story in a future Transformers film. This is especially possible now as Michael Bay has recently insisted that The Last Knight will be his final film at the helm of one of the blockbusters. The problem for Duhamel is that Michael Bay has made this promise before only to then return for another whack at the franchise.
While there's a slight chance that we'll get to see Lennox's wife or his daughter again in a future Transformers film, it is less likely that it'll turn out to be Isabela Moner's Izabella, as Josh Duhamel predicted. So as not to spoil you, you'll have to go and see Transformers: The Last Knight to find out. In the meantime you can check out a snippet of my chat with the hugely affable Josh Duhamel regarding Transformers: The Last Knight, below.
Transformers: The Last Knight has actually been released into some cinemas already ahead of its fully-fledged release this weekend. The Last Knight marks a coming together of the human elements of the franchise, too, as Josh Duhamel, who appeared in the first film, its sequel Revenge Of The Fallen, and Dark Of The Moon, pairs up with Mark Wahlberg's Cade Yeager from Age Of Extinction. But even their combined presence can't stop the most alluring element of these films being the Transformers themselves, especially since Optimus Prime, Bumblebee, and The Hound have been joined by the mercurial robotic efforts of Cogman (Jim Carter).
You'll just have to see Transformers: The Last Knight for yourself to see why the diminutive, psychotic butler is so sensational. But as you may already guess it has something to do with him being diminutive, psychotic, a butler, and a Transformer. God bless Michael Bay.
Your Daily Blend of Entertainment News