The Awesome Way Jared Leto Watched Wonder Woman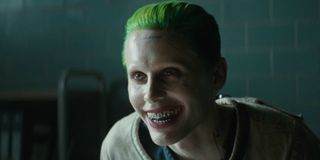 Ever since it was released at the start of the month, Wonder Woman has wowed and enchanted audiences thanks to its fresh and uplifting take on the superhero genre. Wonder Woman also secured some much needed critical acclaim for the DC Extended Universe, after Suicide Squad and Batman v Superman were attacked so viciously last year. Unfortunately, Jared Leto, who played The Joker in Suicide Squad, wasn't able to join in the celebrations with the other members of the DCEU as he was off touring with his band, Thirty Seconds To Mars. But that didn't stop him from watching Wonder Woman. In fact, Jared Leto took the entire crew of Thirty Seconds To Mars' tour to a screening, and everyone absolutely adored the film. Jared Leto remarked:
Jared Leto, who is the frontman for Thirty Seconds To Mars, also opened up about how much the character of Wonder Woman means to him. During his interview with ET Online, Jared Leto admitted that he used to watch the Wonder Woman television series, which starred Lynda Carter in the titular role, all the time as a kid. This echoed the sentiments that Jared Leto had made when he posted an image of the entire Thirty Seconds To Mars crew just after they'd watched Wonder Woman to Instagram. In the caption, Jared Leto wrote, "When I was a kid I used to watch the og tv series religiously," alongside the image below.
Just in case you couldn't recognize Jared Leto amongst the throng of the people in the image, he's the one wearing a huge pink hat and with a giant beard. He is also beaming from ear-to-ear as he clearly adored watching Wonder Woman, which is basically the response that everyone else who has watched the film has had, too.
There's every chance that Jared Leto will soon get to explain to Gal Gadot face-to-face just how much he loved Wonder Woman. That's because since Jared Leto's Joker and Gal Gadot's Wonder Woman share the same cinematic universe, we can only hope and pray that their paths will cross at some point in time. It's still probably a little too early for that to occur. What we do know is that we'll see Gal Gadot reprise her role as Wonder Woman later this year, as she will pop up in Justice League. The success of Wonder Woman, which recently passed $600 million at the box office, means that a sequel is inevitable, too. We're still not exactly sure when we'll next get to bear witness to Jared Leto as The Joker. It will most likely be in Gotham City Sirens, but since that doesn't have a release date yet, let's hope that he pops up before then.
Your Daily Blend of Entertainment News