Wonder Woman's Gal Gadot Wears Platform Flip Flops On The Red Carpet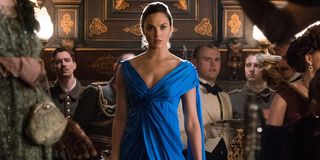 Gal Gadot has been setting red carpets on fire at all of the premieres around the world for her blockbuster film, Wonder Woman, and the 32-year-old Israeli movie star has been making a somewhat secret fashion statement: no high heels. Gadot's stylist, Elizabeth Stewart, took to social media to post a photo of her client stunning onlookers at the Wonder Woman premiere in Mexico City, and Stewart gently acknowledged the impressive platform sandals on Gadot's feet. Check out the post here:
Of course, you cannot see the shoes in the photo Elizabeth Stewart posted to Instagram, but it still makes for a "wonderful" fashion statement. Gal Gadot wore the ES x RD Rocket Dogs (opens in new tab), platform flip flops which are easy to find at the Rocket Dog (opens in new tab) chain store. Rocket Dogs are an incredible throwback to the '90s, and perhaps---if we want to read into it (and we do)---a middle finger to overindulgence and the patriarchy. Also, the shoes gave Gadot some additional height while being cozy. You can find similar styles of Rocket Dogs at various retailers, too. Take a look at these Rocket Dog Boom Platforms available at Urban Outfitters (opens in new tab):
Of course, the black, floor-length Prada gown Gal Gadot wore to the Mexico City premiere of Wonder Woman looked fantastic with its colorful beading and stitching and the deep, plunging neckline that showed off some skin. Plus, Gadot wore her hair back and had a dark crimson lip---a super chic look. Thus, the use of the platform flip flops was an excellent way to do both high-end and low-end.
But it was not the first time the actress and model wore flats during the press junket for Wonder Woman. Earlier this year, Gal Gadot wore the gold Gwenna sandals from Aldo (opens in new tab) to a premiere event. The Aldo sandals complemented her red sequined gown by Givenchy, which she accessorized with expensive jewelry by Tiffany & Co. Both the Rocket Dog and Aldo shoes look comfortable; plus, they are affordable. In fact, you can get buy both options for less than $150.
Furthermore, Gal Gadot wore black embellished peep toe flats during a visit to Good Morning America in May. She looked drop-dead gorgeous in a cobalt blue outfit by Diane Von Furstenberg, so again, wearing flats helped to give the whole ensemble a strikingly sensible look. Then she wore a different outfit and a different pair of black flats to an interview at AOL Live in Soho later in the day. When Variety asked her why she wore flats instead of heels to the Wonder Woman premieres, Gadot gave the most realistic response ever and said,
It is wonderful to see Gal Gadot making such a subtle yet strong statement with her fashion choices. It is a brilliant way to embrace the role model aspects of Diana Prince.
Your Daily Blend of Entertainment News
Thank you for signing up to CinemaBlend. You will receive a verification email shortly.
There was a problem. Please refresh the page and try again.