10 Big Movies Heading To Theaters In June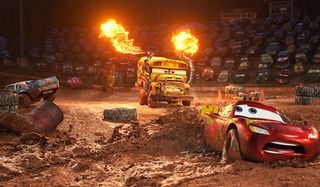 May brought us the first movies of 2017's summer season, and while we saw some successes, there were more box office failures than we'd hoped for. Still, June is about to darken our doorstep, and there are ten more big ticket flicks that'll try to make their bones at the box office. Prepare to mark your calendars for the month of June, as the following movies are primed and ready to make your summer vacation a little brighter... or super.
Wonder Woman
Everyone is abuzz about Wonder Woman, as the first advanced screenings unleashed a tidal wave of love for the Amazonian princess' big screen debut. At this point, it's hard not to get excited about this one, despite the fact that DC and Warner Bros. have burned us before. In particular, the buzz we're hearing about both Gal Gadot and Chris Pine's performances are what stand out, as well as director Patty Jenkins' beautiful attention to color in the DCEU.
Opening: Friday, June 2nd
It Comes At Night
Horror has been having a very good year, which means that It Comes At Night has to put a little more elbow grease into its operations to stand out. Thankfully, this is another film that seems to have excited folks, as an avalanche of praise has been showered upon this film prior to its wide release. Plus, it certainly helps to see that we'll get to see the likes of Joel Edgerton and Carmen Ejogo taking cautious steps into a universe that looks as paranoid as it is deadly. If you have a taste for the scary and post-apocalyptic, this is a good bet for some action in both corners.
Opening: Friday, June 9th
The Mummy
We have to admit, we're still cautiously optimistic on this one. Yes, Universal is a bit "horse before the cart" with priming the Dark Universe before actually putting out this prospect. That said, Tom Cruise fighting a mummy has probably been on our wish list for some time now. It's also nice to see Cruise branching out into more genre friendly fare, as he's usually a more grounded action movie type. Also, we'd be remiss if we didn't mention Sofia Boutella's mummy as one of our most anticipated villains of this summer, because she's already crushed roles in Kingsman: The Secret Service and Star Trek Beyond to great effect.
Opening: Friday, June 9th
All Eyez On Me
The story of Tupac Shakur's legendary music career, and untimely death at the age of 25, is one that has just as much relevance today as it did back in 1996. So naturally, All Eyez On Me is a film that will carry a lot of weight when it hits theaters this month, as it will tell that story in a movie that a lot of people may tell you has been overdue for some time. While All Eyez On Me has had its trials and tribulations getting onto the big screen, all signs point to the wait being truly worthwhile, as the trailer shows off a movie that truly stands out in the summer movie season, hopefully for all of the right reasons.
Opening: Friday, June 16th
Cars 3
After Cars 2, it was hard to think that we'd even be half excited for Cars 3's eventual existence. But then, out of nowhere, Disney and Pixar dropped that first trailer, promising a hell of a wreck for Lightning McQueen, and an uncertain future to follow, and we couldn't help but see a glimmer of hope. The story promises to focus once more on the once and former champ, on the rebound from his serious blowout, which honestly sounds like the Cars 2 we should have gotten in the first place. Add the return of Paul Newman's silky vocals, as well as newcomers Armie Hammer, Nathan Fillion, and Kerry Washington, and you've got several reasons to return to the world of anthropomorphic automobiles.
Opening: Friday, June 16th
Rough Night
Paul W. Downs and Lucia Aniello have taken the comedy world by storm with their work on the Comedy Central hit, Broad City. Now, they're setting their sights on transferring that success to the theatrical circuit with Rough Night, an ensemble comedy that pits Scarlett Johansson and a group of her rowdy best friends against anything and everything, starting with the problem of what to do with a dead stripper. Seeing as Kate McKinnon, Jillian Bell, Zoe Kravitz, and Ilana Glazer are those rowdy friends that are dealing with the crisis along side Johansson's focal point, it looks like the movie is going to more than live up to its title, in all of the funniest ways.
Opening: Friday, June 16th
Transformers: The Last Knight
There isn't a bigger film coming our way in June than Transformers: The Last Knight. Seriously, the sheer scale of the action and characters is probably going to be the biggest of anything we see this month. Though when it comes to the terms of sheer content, Michael Bay's latest entry in the successful franchise doesn't look to be skimping either, as we'll see a whole slew of historical events enhanced by Autobot combat. If this is going to be Bay's final outing as the steward of the Transformers series, it looks like it's really pulling out all the stops to be possibly be his finest.
Opening: Wednesday, June 21st
Baby Driver
If you aren't looking forward to Baby Driver, then you're either unimpressed by what critics have said about the film, or you're just not an Edgar Wright fan. In either case, the latest film from the man who brought us Shaun of the Dead is something that looks to broaden the already beloved filmmaker's appeal to stratospheric heights. Yet at the same time, the more it looks like Wright's style has changed with this film, it looks to have maintained the same zeal for comedic gold, impressive action set pieces, and a hell of a soundtrack. Plus, Meryl Streep is somehow involved, so that alone has to have you wondering what fresh madness awaits.
Opening: Wednesday, June 28th
Despicable Me 3
If you've missed Gru, Lucy, and their family of daughters and Minions, Despicable Me 3 is probably already high up on your radar. But if not, then the dual roles of Gru and his brother Dru being played by Steve Carell will probably change that, as Gru not only has rediscovered his brother, but also is being tempted by him to return to the world of super villains. Oh, and if you're a massive fan of the Minions, then you'll probably be thrilled to see them return, as well. Either way, everyone has something to look forward to with Illumination's latest.
Opening: Friday, June 30th
The House
Yes, it's fantastic to see Will Ferrell and Amy Poehler teaming up in The House, as that's pair of comedians who haven't done a big screen venture before. Regardless, if there was something that really clinched our anticipation for the film, time and again, we have to say it's the inclusion of Jason Mantzoukas. He is the gravy on the turkey sandwich that is this movie, and we're looking forward to an early Thanksgiving with these three wreaking havoc within a home-brewed casino operation. Now if only we could get a Robert DeNiro / Joe Pesci cameo, we'd be in business.
Opening: Friday, June 30th
This poll is no longer available.
If you want to see the full schedule of this summer's theatrical releases, click here to get all the information you need!
Your Daily Blend of Entertainment News
Senior Movies Contributor
CinemaBlend's James Bond (expert). Also versed in Large Scale Aggressors, time travel, and Guillermo del Toro. He fights for The User.
Your Daily Blend of Entertainment News
Thank you for signing up to CinemaBlend. You will receive a verification email shortly.
There was a problem. Please refresh the page and try again.