This Rotten Week: Predicting Baby Driver, The House And Despicable Me 3 Reviews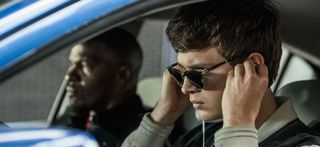 In the depths of summer, there is opportunity for members of every demographic to go see movies - and while this weekend doesn't see the release of any typical summer blockbusters, we are seeing a healthy smorgasbord that is offering up options for all cinema fans. Get ready for the fast-paced crime thriller Baby Driver, the R-rated comedy The House, and the animated sequel Despicable Me 3. It's gonna be a Rotten Week!
Just remember, I'm not reviewing these movies, but rather predicting where they'll end up on the Tomatometer. Let's take a look at This Rotten Week has to offer.
In Baby Driver, the latest film from director Edgar Wright, Ansel Elgort stars as Baby, a getaway driver extraordinaire who operates his life with earbuds in - speeding criminals around the streets of Atlanta with a specific soundtrack of his own design. And man this flick looks like a ton of fun. With the film making its world premiere at SXSW a couple months ago, critics have already had the opportunity to express opinions about this one, and so far its record is perfect. It's sitting at 100% on the Tomatometer with more than 30 reviews posted, and each one reads better the one before it.
Edgar Wright looks like he's using the same frenetic energy we saw in other works like Hot Fuzz (91%), The World's End (89%) and Scott Pilgrim vs. the World (81%), which were all critical darlings in their own right. The star-studded Baby Driver looks like it's sporting some awesome car chases, and it appears to have more than enough laughs to go with the thrills. This is the exact kind of movie the summer needs, full of energy and originality. It's hard to imagine its Rotten Tomatoes score slipping very much.
Running a home casino is a plot that seems like it would be rife with plenty of big laughs, but it's sad to say that The House doesn't look all that funny. It's a shame considering Will Ferrell and Amy Poehler on their own are pretty hilarious, and they are surrounded by a supporting cast featuring some very talented comedians. But this flick looks shockingly stale, running with a trailer that suggests it could be a theatrical experience bereft of laughs.
Andrew J. Cohen maks his directorial debut with the film after some screenwriting credits on the Neighbors franchise and Funny People. While those are decent comedic ventures, I suspect The House lacks the truly awkward belly laughs of the former or the mirth of the latter (at least the first half of the movie). It appears rather cookie cutter with a silly concept and Will Ferrell getting to do his usual schtick we've seen time and again now.
Hollywood has seen some major animated franchises take off in the last decade, but few have had the success of the Despicable Me movies. The box office numbers for all of the installments thus far have been insane, and as such it's no surprise that we're now seeing the release of the fourth title in seven years. It's easy to predict that Despicable Me 3 will wind up making a ridiculous amount of money worldwide... but I don't expect the critical reaction to be quite as impressive.
Illumination Entertainment isn't in the same class as Pixar or DreamWorks when it comes to the critically acclaimed animated fare, but they've put out their share of hits. Sing (73%) and The Secret Life of Pets \(74%) were both enjoyable, and the _Despicable Me_ franchise has basically carried the studio with the first two flicks and Minions crushing the box office for a combined $2+ billion bucks. I suspect this one falls below both Despicable Me (81%) and Despicable Me 2 (73%), but manages to do just a bit better than Minions (56%).
As anticipated, Transformers: The Last Knight (Predicted: 25% Actual: 15%) sucked. I basically took the average of the franchise leading up to this mess to come up with the predicted score, and it barely held within my ten percent range of success. Critics just took a collective dump on Michael Bay's latest go-round with the franchise. They hated it. Most complained the flick had no true point, that it was simply a mash up of action movie ideas, visual effects and not much else. It ends as the lowest rated film in the franchise. What a mess. Hopefully the planned spin-offs that are in the works winding up reinvigorating the franchise, because more of the same just isn't acceptable.
Next time around we've got a huge one with the arrival of Spider-Man: Homecoming. It's gonna be a Rotten Week!
Your Daily Blend of Entertainment News
Doug began writing for CinemaBlend back when Terminator: The Sarah Connor Chronicles actually existed. Since then he's been writing This Rotten Week, predicting RottenTomatoes scores for movies you don't even remember for the better part of a decade. He can be found re-watching The Office for the infinity time.
Your Daily Blend of Entertainment News
Thank you for signing up to CinemaBlend. You will receive a verification email shortly.
There was a problem. Please refresh the page and try again.