That Time Alec Guinness Helped Mark Hamill Pull A Hilarious Prank On The Star Wars Set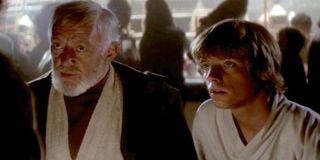 Over the last 40 years Mark Hamill has repeatedly proven to be one of the most entertaining personalities in mainstream cinema. During this period he has repeatedly told stories about his time on sets that have enraptured millions. Of course, most people are primarily interested in hearing his tales from working on Star Wars. One of his best ever anecdotes has now emerged, courtesy of a decades old clip which sees Hamill recall how acting titan Alec Guinness once assisted him in a prank to subdue a particularly devious extra.
All that we know about this extra is that he is a little person by the name of Jack, he portrayed a Jawa, and was a particularly good insult comic. So much so that Mark Hamill even went as far as to call him a "waist-high Don Rickles." Part of Jack's shtick repeatedly saw him complaining that he didn't have his own chair with his name plastered across the back, while the likes of Mark Hamill, Alec Guinness, Carrie Fisher, and Harrison Ford did. As a retort, Jack would carry a rock he'd found in the African desert and use that as a chair, while he also put a sticker with his name on it across the back of the rock. Mark Hamill couldn't get his own back on Jack, though, explaining,
Beneath the jokes Jack insisted that he was actually in awe that he was getting to work with Alec Guinness, who he was obviously a huge fan of. This was when Mark Hamill realized that he could use Alec Guinness to get some payback. Beforehand, Jack joked that he had been on speaking terms with Alec Guinness, although that the only actual speaking Guinness had done was yelling, "get out of the way" on a plane. Mark Hamill told Alec Guinness this story, which then convinced the actor to take on Jack himself. I'll let Mark Hamill pick up the story from there,
Jack was left shaking from the experience, but was also rather impressed that Alec Guinness and Mark Hamill had conspired in such a fashion. Mark Hamill added,
You can watch Mark Hamill telling the above story on the Johnny Carson's The Tonight Show, via The Hollywood Reporter, below.
Mark Hamill will once again reprise his role as Luke Skywalker later this year when Star Wars: The Last Jedi is finally released into cinemas on December 15.
Your Daily Blend of Entertainment News