Is Disney Going To Use Marvel At Its Theme Parks To Fix Crowd Capacity Issues?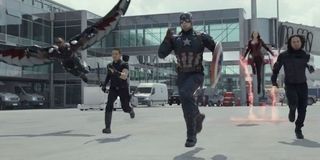 Disneyland is quite possibly more popular now than it has ever been and, while this is great for business, it's terrible for the guests who have to deal with extreme crowds. However, the park may have a solution on the horizon. While Disneyland is expecting to have an even bigger crowd problem once the new Star Wars Land opens in 2019, the park may be looking toward doing something similar with Marvel at Disney's California Adventure across the street as a way to draw crowds away from the main park.
Disneyland already hits capacity on its busiest days, but with the huge Star Wars themed land looming, the fear, according to the Daily News, is that the park could hit capacity early in the morning, leaving thousands of people a day needing someplace else to go. Based on 2015 numbers, Disneyland had over 18 million guests while Disney's California Adventure only had about half as many. Guests clearly have a preference as to where they'd like to go, but Disney would certainly love to see those numbers grow more even. The opening of the Guardians of the Galaxy: Mission - Breakout ride recently is the first step in an eventual Marvel Land at Disney's California Adventure and it's clear from the wait times that ride saw upon opening that there is certainly a demand for it. So perhaps, Marvel is the solution to bring more bodies into that park.
And the park has the space for it. Currently, there is a large piece of undeveloped land directly behind the new Guardians of the Galaxy ride, and in addition to that, the Hollywoodland corner of the park has always been something of a dead zone. Currently, the ride houses a theater previously used for a Muppet 3D show (and currently used to promote upcoming Disney films), and a Monsters Inc. ride, but that's about it. Beyond that, it's been the home of evening entertainment like the Tron-themed ElecTRONica dance party and the Mad T Party, a live cover band made up of characters based on Tim Burton's Alice in Wonderland (which was actually a lot of fun). By combining the undeveloped space with a refurbishment or expansion of the Hollywoodland area, there's plenty of room to build a large area dedicated to Marvel.
While it seems that Disney's Imagineers are currently working on ideas for more Marvel-themed rides, the problem is that no major work is likely to get started until after Star Wars Land is finished. Disney is big, but even that company does't have the resources for two major renovations like this to go on at the same time. Odds are that Disneyland will likely have to deal with crowd issues for a while as the Marvel land gets built across the way. Once that's done, however, we could very well see more parity between the two parks. This will be great news for overall crowds, though for those of us who enjoy the more laid back atmosphere of DCA, it may mean those days are coming to an end.
CinemaBlend's resident theme park junkie and amateur Disney historian. Armchair Imagineer. Epcot Stan. Future Club 33 Member.
Your Daily Blend of Entertainment News
Thank you for signing up to CinemaBlend. You will receive a verification email shortly.
There was a problem. Please refresh the page and try again.