Would Edgar Wright Do Another Franchise Movie? Here's What He Says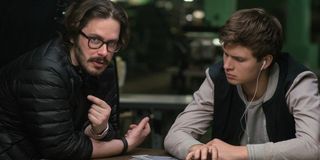 The release of Baby Driver was the ultimate reminder of just how prestigious a cinematic talent Edgar Wright is. The fact that critics have adored his fifth outing as a director, and audiences have flocked to the movie, has instantly led the good people of the world wide web to start speculating about Wright's next project. Some have even suggested that Edgar Wright will soon be inundated with offers to oversee a sequel or entry into one of the many cinematic universes. The director recently ruled out overseeing a franchise film, however he's made it clear that he'd only do so if the offer was right for him. Edgar Wright explained,
There's a very good reason why Edgar Wright has some trepidation about taking on a franchise film. You see, he's been there before and was slightly burned by the experience. Edgar Wright was hired to write and direct Ant-Man back in 2006, which was a full two years before Iron Man kick-started the Marvel Cinematic Universe. However, over time, problems emerged with Edgar Wright's vision for the film, which didn't correlate with what Marvel wanted.
Then, in May of 2014, it was announced that Edgar Wright had left the project over eight years after originally signing up for it. While Peyton Reed's take on the character was still a success, audiences have always wondered exactly what Edgar Wright would have done with him. Wright has made it clear that he regards Ant-Man as the ex-girlfriend that got away. Even before he made the above comments to the Washington Post, Edgar Wright admitted that the closest he came to watching Ant-Man was when he was on a plane and the person next to him put it on. However, instead of peering over and finally taking in the film, Edgar Wright instead put his head down and worked on his computer instead.
Marvel's loss has been our gain, though, because Baby Driver has already been labelled by many as one of the best films of the summer--and it's an original film to boot. Now, Edgar Wright has insisted he'll only work on a franchise film if he is "emotionally invested" in the project, but which of the potential universes would he work best in? Marvel is probably out of the picture, while Edgar Wright recently confessed that he doesn't actually know that much about DC, even though he'd probably have the perfect sensibilities for a Flash film. After Baby Driver, though, my hope is that he'll turn his talents to a Fast And Furious film. Especially because if Edgar Wright did direct an installment it would probably just feature Tyrese Gibson screaming throughout the entire film. Which would be quite delightful.
In the meantime Edgar Wright may even take a long hard break after working tirelessly on Baby Driver. But stay glued to CinemaBlend, because when the director finally announces he's got another project in the pipeline, we'll be the first to let you know.