The Three Marvel Movies You Should See Right Before Spider-Man: Homecoming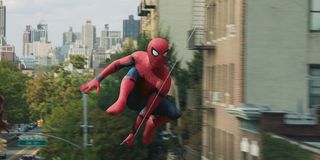 Since 2008, the folks at Marvel Studios have worked to create a multi-storied franchise in which every chapter operates as its own thing while also contributing to the larger whole. As a result, the best way to prepare for any new title is by watching everything that preceded it... but considering that's now about 34 hours of movie content, that's not the easiest thing to schedule. Certainly some will make an effort to marathon all of these titles before the release of Spider-Man: Homecoming, but for those who don't have time, we're here to help you out.
Having now seen the new Spider-Man movie, and looked back on the Marvel Cinematic Universe movies that came before it, we've isolated the three blockbusters that work best for preparation purposes. While titles like Thor and Guardians of the Galaxy don't inform a great deal of what's going on in the new film, watching these three specific features should provide you with everything you really need to know. (And don't worry, this is totally SPOILER-FREE).
The Avengers
In 2012, Earth of the Marvel Cinematic Universe faced an incredible threat. It was the year that the Asgardian known as Loki led an alien invasion of Chitauri to attack New York, with the ultimate goal being global conquest. He would have succeeded also, had it not been for the heroics of six very important individuals: Tony Stark a.k.a. Iron Man, Steve Rogers a.k.a. Captain America, Bruce Banner a.k.a. Hulk, Thor, Natasha Romanoff a.k.a. Black Widow, and Clint Barton a.k.a. Hawkeye. Each skilled and powerful in their own right, it was their combined forces that wound up not only saving the world, but changing it forever.
The reverberations of the events in The Avengers are still being felt years later in the Marvel Cinematic Universe, and that very much extends to what we see in Spider-Man: Homecoming. The Battle of New York allowed the world to see real superheroes unite and prevent global annihilation, and one of the many that these characters wound up inspiring was Peter Parker. Re-watching Joss Whedon's movie will give you a stronger insight into exactly what's going on in Spider-Man's head whenever he puts on his costume. Plus, Spider-Man: Homecoming has narrative elements that tie directly back to the blockbuster, so it really just wouldn't hurt to get a refresher course on the details.
Iron Man 3
Shane Black's Iron Man 3 is a heavily-debated feature among comic book movie fans, and part of that has to do with the comparatively little time that Tony Stark actually spends wearing his famous armor. The reality, however, is that the protagonist's distance from his suit in the film is meant to drive home an important theme: the question of whether or not Tony himself is a hero, or if it's just all about the Iron Man suit. It's a key story of introspection, and it not only changes Tony philosophically going forward in the Marvel Cinematic Universe, but also has a key impact on his relationship with Peter Parker.
Spider-Man: Homecoming notably is not a retelling of the titular hero's origin story, but it does get the chance to tell the tale of Peter's growing relationship with his high-tech costume, designed by Tony Stark. While Peter had months of vigilante experience under his belt before his Marvel Cinematic Universe introduction (more on that in a bit), his first solo movie lets him really experiment with some very special resources provided to him. It's this experimentation that leads him to face the aforementioned big Iron Man 3 question, and also drives him into direct conflict with Tony.
Captain America: Civil War
If this feature were titled "The One Marvel Movie You Should See Right Before Spider-Man: Homecoming," the answer would be Captain America: Civil War -- and the reason really should be obvious to anyone who has actually seen the movie. While Spider-Man: Homecoming is the webslinger's first solo feature in the Marvel Cinematic Universe, it was Joe and Anthony Russo's 2016 film that introduced him to the world, and the blockbuster features many things to remember before watching the new story play out.
Peter Parker and Spider-Man don't have a ton of screen time in Captain America: Civil War, but the movie makes the minutes count. In that time, we learn many things about the young hero, from his short history as a crime fighter to the technology he's already developed, to his relationship with Aunt May (played by Marisa Tomei). Of course, then there's also the foundation of his bond with Tony Stark, the world's feelings about costumed heroes and more. Basically, this one is a must-watch in terms of enhancing the experience of Captain America: Civil War.
NJ native who calls LA home; lives in a Dreamatorium. A decade-plus CinemaBlend veteran; endlessly enthusiastic about the career he's dreamt of since seventh grade.
Your Daily Blend of Entertainment News
Thank you for signing up to CinemaBlend. You will receive a verification email shortly.
There was a problem. Please refresh the page and try again.