Spider-Man End Credits Scenes: What Happens, And What They Mean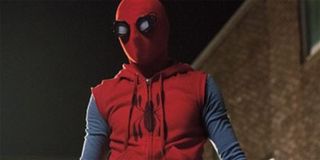 Earlier this summer, director James Gunn set a high bar for Marvel Studios end credits scenes. While every movie that preceded it featured only one or two extra bits, Guardians of the Galaxy Vol. 2 offered fans five bonus sequences as both teases and opportunities for laughs. Jon Watts' Spider-Man: Homecoming doesn't quite follow in its footsteps, and once again only has mid and post-credits scenes, but both of them are still great.
On this page and the next, we will not only dissect and reflect on the end credits scenes of Spider-Man: Homecoming, but also dig into what they mean for the larger Marvel Cinematic Universe. Also, this should be obvious, but before we dig in...
SPOILER WARNING: The following article contains massive spoilers about the end of Spider-Man: Homecoming. If you have not yet seen the film, and don't wish to know key details before seeing them play out on the big screen, please bookmark this page and return after your screening!
Let's get on with the show!
The Vulture Has An Interesting Prison Encounter
By the time we reach the end credits of Spider-Man: Homecoming, it's clear that at least a few months have passed, as Adrian Toomes (Michael Keaton) is no longer a free man and is instead locked away in a prison. It turns out, however, that he is not the only man on the premises who was also present during Spider-Man's big screw-up on the Staten Island Ferry. Also incarcerated is Mac Gargan (Michael Mando) -- badly scarred from the incident -- and it turns out he has a proposition for the man also known as the Vulture.
It turns out that Mac Gargan was seriously wounded during the battle on the Staten Island Ferry, and he blames Spider-Man for the deep burns on his face and the various other serious injuries that he sustained. He deeply wants revenge on the young web-slinger, and while offering a team-up opportunity he reveals that he's heard that Adrian Toomes knows the real identity of the costumed vigilante. As an audience we know this true, but he both refuses the offer and denies the rumor.
There's a good amount to analyze here, but let's start with some background on exactly who Mac Gargan is, for those unfamiliar with the comics. Rather than being just an ordinary criminal, Gargan has a long history of supervillain-y, carrying two different mantles. The less notable is the period he spent in partnership with the Venom symbiote, but more significant -- and hinted at with a tattoo on the movie character's neck -- is Scorpion. It was a name that he took on after going through an experiment to turn him into a perfect foe for Spider-Man (orchestrated by J. Jonah Jameson), and in addition to having enhanced strength and speed, he is also classically outfitted with a barbed tail as part of his costume.
Outside of the surgical procedures that he clearly went through following his first encounter with Spider-Man, it doesn't look like Gargan has undergone any kind of real transformation in the Marvel Cinematic Universe just yet -- but given that he was trying to work out some kind of deal with Adrian Toomes' crew earlier in the movie, it's possible that he's been cooking up some ideas regarding super suits. Does this mean he may wind up being in full Scorpion mode by the time the sequel rolls around in 2019? It's possible -- but he would much more likely appear as a side-villain in a big screen narrative rather than being a primary antagonist (similar to the role played by Bokeem Woodbine as Shocker in Spider-Man: Homecoming).
Exciting as it is that this film gives Scorpion a potential future in the Marvel Cinematic Universe, what's less thrilling is that it looks like the idea of doing a movie version of the Sinister Six may not be in the cards at this point in time. It's true that Scorpion wasn't an original member of this group when it was introduced in 1964 (organized by Doctor Octopus as a means of combining forces to overpower the wall-crawler), but Vulture was, and it wouldn't have been inconceivable for Vulture and Scorpion to recruit four others for a plan to take out Spider-Man. The fact that Adrian Toomes says no to Mac Gargan's proposal, however, suggests that Marvel Studios and Sony aren't ready to go down that particular avenue just yet.
Of course, on some level Adrian Toomes really had to refuse the offer for the betterment of the franchise. Spider-Man: Homecoming makes the bold decision to have the Vulture discover that Peter Parker is Spider-Man, and considering how few people have that information in the comics, that's a pretty big deal. By the end of the movie, there are no promises that Toomes isn't going to start telling everybody he can about the secret, but the mid-credits scene provides confidence that he will be keeping it to himself. The whole situation may change as the hidden identity of the friendly neighborhood hero winds up becoming more and more valuable, but we'll just have to wait and see if that ultimately plays into future stories. This is the wonderful benefit of keeping Toomes alive at the end of the film and not just killing him off!
The Spider-Man: Homecoming mid-credits scene is short, but sweet, and offers up plenty of exciting possibilities for Spider-Man's future in the Marvel Cinematic Universe. The same can't exactly be said for what comes after the credits are done rolling, but it's certainly one of the funniest and most clever extra sequences that Marvel Studios has ever made.
Captain America Preaches A Virtue
Spider-Man: Homecoming marks only the second time that Captain America (Chris Evans) has appeared in a Marvel movie with a title not carrying either his name or "Avengers," and the Jon Watts film actually provides him a lot more screen time than Thor: The Dark World did (where he appeared as one of Loki's illusions). Throughout the feature, the legendary patriotic hero is shown few times, always speaking to students of Midtown School of Science And Technology via pre-recorded Public Service Announcements. After dishing out lessons about physical education and detention, Captain America also gets the last word in the blockbuster via the post-credits scene -- delivering a special message to audiences about the importance of patience.
Unlike the other cameos, where the "war criminal" Captain America is shown on a monitor, the post-credits scene has the star-spangled man delivering a message directly to movie-goers while wearing the suit we previously saw him wearing in Joss Whedon's The Avengers (meaning that it was probably filmed within the MCU around the year 2012). In his pre-written message, Cap tells audiences about how important it is to be patient in life, even when the end of the road winds up being something less than desirable. Before the screen goes to black at the end of the special announcement, we see Cap talk to someone behind the camera, asking just how many more of these videos he needs to record.
In case you haven't figured it out, the whole thing is set up as a meta joke about Marvel Studios' long history of post-credits scenes. Making these kinds of blockbusters requires a ridiculous number of people to put in a lot of work, and it takes a long time to acknowledge all of them at the end of the finished print. As such, it can often feel like you've been watching scrolling names forever while waiting for extra sequences... so the whole endeavor requires some patience (really not that much to ask at the end of the day). It's an end credits scene that doesn't offer any insight regarding the future of the Marvel Cinematic Universe, but it does stand as one of the funniest that we've seen in the franchise.
What are your thoughts on both the mid-credits and post-credits sequences in Spider-Man: Homecoming? Did you notice any details that we didn't? How do you think they rank among past scenes that Marvel has put out? We want to hear all of your thoughts, feelings, and opinions, so please leave them below in the comments section!
Your Daily Blend of Entertainment News
Assistant Managing Editor
NJ native who calls LA home and lives in a Dreamatorium. A decade-plus CinemaBlend veteran who is endlessly enthusiastic about the career he's dreamt of since seventh grade.