The Funny Way Bill Murray Stressed Out Ivan Reitman On The Set Of Meatballs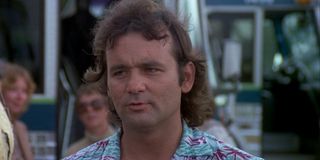 After wowing audiences for three seasons on Saturday Night Live, it was finally decided in 1979 that Bill Murray should lead his own comedy. That comedy was Meatballs, and it was a huge success from the get-go, grossing $43 million from a budget of $1.6 million. But while Bill Murray and the film's director, Ivan Reitman, can look back on Meatballs now as the start of something special, on the first day of production, the actor immediately stressed out Ivan Reitman by dismissing the script and then throwing it in the bin. Despite it obviously being in jest, Ivan Reitman has now admitted that this experience left him terrified, recalling:
Yep, that sounds like classic Bill Murray. The actor has developed a reputation for his bizarre behavior both on and off set. None of it is actually that malicious, though, as in the past he has simply walked up to people in diners and stolen their fries, rode a child's bike through Wal-Mart on a number of occasions, photo-bombed engagement pictures and bartended at a hipster bar in Brooklyn.
However, you can understand why Ivan Reitman might have felt a little aggrieved at the treatment that Bill Murray gave the script, which Len Blum, Dan Goldberg, Janis Allen and Harold Ramis had worked so hard at creating. Clearly it didn't leave too much of a sour taste, though. That's because Ivan Reitman went on to work several more times with Bill Murray, directing him in Stripes, Ghostbusters and Ghostbusters II.
But this all began with Meatballs, which was actually shot in the summer of 1978 in Haliburton, Canada. Those involved in Meatballs have been recalling its production, release,and lasting impact with Vanity Fair. In this piece, it is revealed that Ivan Reitman had to hound Bill Murray into accepting the part in Meatballs, and even three days before filming was due to start, they weren't actually certain that he'd read the script or if he'd turn up. Thankfully for Meatballs, and film history, Bill Murray arrived on set, and subsequently charmed movie audiences.
While Meatballs launched Bill Murray's hugely successful career, it also spawned three sequels of its own, too. Meatballs Part II arrived in 1984, Meatballs III: Summer Job in 1986 and Meatballs 4 in 1992. None of them involved Bill Murray or Ivan Reitman, though, and as a result are predictably awful.
Your Daily Blend of Entertainment News
Thank you for signing up to CinemaBlend. You will receive a verification email shortly.
There was a problem. Please refresh the page and try again.