The Comedy Role Bill Murray Says He Lost To Jack Nicholson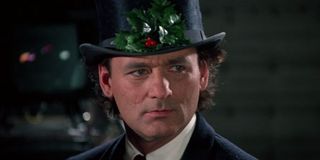 Bill Murray's aloofness is arguably one of his most redeeming qualities. That and the fact that he's one of the finest comedians to ever stand in front of the camera. But it turns out that Bill Murray's casualness actually cost him a role in the upcoming remake of Toni Erdmann, as Kristen Wiig originally approached him with the role instead of Jack Nicholson.
Bill Murray made this admission himself during a chat with CBS's Squawk Box, via Vulture, revealing that his fellow Saturday Night Live alumni sent him the original Toni Erdmann to watch, as a way of asking whether he'd play her father in the remake. The problem was Bill Murray is so unorganized that he lost the tape and didn't watch it, so Wiig moved onto her next choice, Jack Nicholson. A rather sorrowful Bill Murray recalled,
It's impossible to know whether Bill Murray was Kristen Wiig's first choice. Or if Jack Nicholson was always her number one pick, but since he has been retired since 2010 she just assumed he'd say no. Hopefully it's the latter, because then at least Bill Murray can take solace in bringing the duo together and forcing Wiig to ask Nicholson.
The plot is only going to thicken if Toni Erdmann wins the Academy Award for Best Foreign Language Film later this month, as interest in its impending production and release will become even more fervent. If Jack Nicholson actually wins an Academy Award after coming out of retirement for the film then even more questions will be asked of Bill Murray and Kristen Wiig, too. While the same questions will invariably be asked if the Toni Erdmann remake turns out to be terrible.
The upcoming remake of Toni Erdmann already has movie hipsters slightly worried. That's mostly because it has been reported that Maren Ade, the woman who wrote and directed German-Austrian comedy, which was one of the most lauded films of 2016, is only involved in an executive producing capacity. You can take a sneaky peek at its mad-cap brilliance below.
Still, with Nicholson and Wiig involved, as well as Adam McKay and Will Ferrell producing under their Gloria Sanchez Productions banner for Paramount, there's still a good chance the American incarnation of Toni Erdmann will rival the original. It's just a shame that Bill Murray will now probably never be able to make himself watch it now.
Your Daily Blend of Entertainment News
Your Daily Blend of Entertainment News
Thank you for signing up to CinemaBlend. You will receive a verification email shortly.
There was a problem. Please refresh the page and try again.