Kermit The Frog Is Getting A New Voice, Here's What's Happening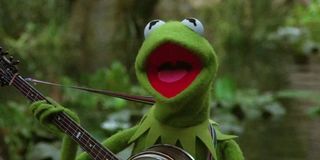 Kermit the Frog has been a staple of film and television since 1955 and in that time only two men have performed the famous Muppet. However, it appears that small club is about to increase by one. It seems that Steve Whitmire, the only person to voice Kermit since the death of Jim Henson, is apparently no longer working with the Muppets. As such, a new performer, Matt Vogel, who has been working with the company for many years, will shortly be debuting as the new official puppeteer and voice of Kermit the Frog.
What's a little strange here is that nobody seems to be quite sure exactly why Steve Whitmire is no longer performing with the company. Muppet fan site Tough Pigs broke the news this morning that the longtime voice was gone after receiving official word from Muppet Studios at Disney. However, they were only pushed to ask the question about Whitmire's status after noticing that recent Muppet productions seemed to be light on the Kermit, as well as the other characters that Whitmire had been performing. A series of Muppet Thought of the Week videos on YouTube did not include anybody voiced by Whitmire and a recent advertisement that featured sarcastic balcony dweller Statler had a different voice actor. In addition to confirming Whitmire's departure and Matt Vogel's new situation, Disney also confirmed that Vogel will debut as Kermit in a new Muppet Thought of the Week video next week.
Matt Vogel has been working with the Muppets since 2008 voicing characters like Electric Mayhem band member Floyd Pepper, Kermit's nephew Robin and Crazy Harry. Also, in a dash of felt-infused irony, Vogel also performed as Constantine, the Kermit imposter character in the Muppet's last big screen outing, Muppets Most Wanted.
Jim Henson first created Kermit back in 1955 and he voiced the character as well as controlled the puppeteering of the frog until his unexpected death in 1990 at the age of 53. From that point, until this one, Steve Whitmire took over performing as Kermit. At 57 years of age, Whitmire certainly had fewer years in front of him performing than the 27 he had been performing Kermit, but there was clearly no expectation that he would be stepping down anytime soon. In addition to taking over Henson's signature roles of Kermit the Frog and Sesame Street's Ernie, Whitmire had been performing with the Muppets since 1978 and had also been the original voice and puppeteer for several other characters, including Rizzo the Rat, who has become a standard member of the Muppet family in his own right. No word on who will be taking over performing Rizzo.
If this had been an official retirement, one would expect a more formal announcement, and the lack of information gives the impression that there's more to this story, though at this point all we really know are the basic facts. We'll be waiting for Matt Vogel's first official performance as Kermit the Frog next week. Needless to say, it probably won't sound exactly like the Kermit we know, which will likely cause an entire generation to feel like there's something slightly off about Kermit, the same way the rest of us did back in 1990 when Steve Whitmire took over the role from Jim Henson. Still, we're glad that Kermit will live on. Things just wouldn't be the same without him. Moving right along then...
CinemaBlend's resident theme park junkie and amateur Disney historian. Armchair Imagineer. Epcot Stan. Future Club 33 Member.
Your Daily Blend of Entertainment News
Thank you for signing up to CinemaBlend. You will receive a verification email shortly.
There was a problem. Please refresh the page and try again.