How Guardians Of The Galaxy's Sean Gunn Is Able To Film Two Characters At Once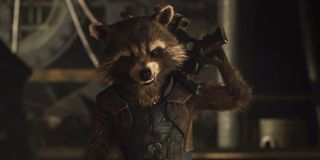 While every single member of the Guardians of the Galaxy ensemble brings his or her A-game to James Gunn's cosmic MCU epics, there's one performer who deserves special credit: Sean Gunn. The brother of the franchise mastermind not only portrays loveable Ravager Kraglin in these films, but he's also responsible for providing the motion capture work for Rocket Raccoon. Playing Kraglin and the Trash Panda simultaneously in Guardians of the Galaxy Vol. 2 was apparently no walk in the park, and the actor recently revealed that scenes featuring both of his characters required meticulous planning. Gunn elaborated:
Like so many other parts of life, it sounds like the trick to playing Kraglin and Rocket in the same scenes involves finding the easiest possible way to get a shot. Vol. 2 wasn't a production like Alien: Covenant -- which used high-tech cameras to keep Michael Fassbender in two places at once. Instead, they made sure to shoot just enough angles to get Rocket into a scene, and then they pretty much just cheated the rest. From there, Gunn simply kept himself ready to actually portray both characters and deliver full-fledged performances for each of them whenever necessary, even though Bradley Cooper's voice eventually wound up in the final version of Rocket.
The Kraglin/Rocket issue clearly became more prevalent for Sean Gunn in the latest Guardians of the Galaxy film, because Rocket's relationship with Ravagers like Kraglin and Yondu (Michael Rooker) received far more attention this time around. Some of the best (and funniest) scenes in Guardians of the Galaxy Vol. 2 revolved around the dynamic between two characters physically portrayed by the same man, so James and Sean Gunn shouldered the extra responsibility of making sure those sequences popped. In the end, we're happy to say that they nailed it.
Sean Gunn's recent remarks to Comicbook.com are only the latest in a long line of problematic issues that the actor has highlighted about the Guardians of the Galaxy production process. In addition to the logistical work required to keep his scenes coherent, the actual process of portraying Rocket is apparently very physically taxing on his body. It almost makes you think James Gunn is putting his brother through hell on purpose, doesn't it? Brothers are like that.
James Gunn's Guardians of the Galaxy Vol. 2 will be available on Digital HD on August 8; the DVD and Blu-ray editions of the film will hit shelves two weeks later on August 22. That said, there are still plenty of great films left to debut this year, so make sure to check out our movie premiere guide for more up to date information on 2017's remaining theatrical releases!
Originally from Connecticut, Conner grew up in San Diego and graduated from Chapman University in 2014. He now lives in Los Angeles working in and around the entertainment industry and can mostly be found binging horror movies and chugging coffee.
Your Daily Blend of Entertainment News
Thank you for signing up to CinemaBlend. You will receive a verification email shortly.
There was a problem. Please refresh the page and try again.