Bradley Cooper Slips Into His Rocket Voice While Talking About Guardians Of The Galaxy 2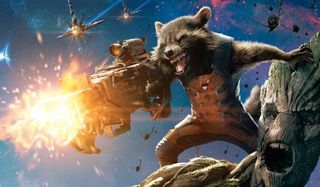 Rocket Raccoon was one of Bradley Cooper's best performances to date. At least, that's what his American Sniper co-star Sienna Miller thinks. As she sys in the following clip, she was fascinated how Cooper lost all traces of himself in voicing this foulmouthed, gunslinging raccoon. But her favorite thing was what the Oscar-nominated actor did at a recent press event: slip back into his Rocket voice.
MTV News tried broaching the subject of Guardians of the Galaxy 2 with Bradley Cooper during an interview for American Sniper. While he didn't know anything about the plot or the production or…well, anything, he did offer us this golden moment where he recited his "What's a raccoon?" line and sent Miller into a fit of giggles.
Marvel was understandably a little nervous about bringing something like GOTG to the big screen. Could mainstream audiences sympathize with, and even come to love, a talking CGI raccoon and his tree pal? The answer was a resounding yes, and that's thanks in large part to Cooper's performance. He enjoys electrocuting his targets, he likes to fire a million projectiles in every direction, he likes escaping from high-security prisons… It's true what he says in the movie: "Ain't no thing like me 'cept me!"
Unfortunately, we still don't know anything about Guardians of the Galaxy 2, except for the fact that it's scheduled for release on May 5, 2017, and James Gunn and the cast are returning for another space adventure. Too many questions have been plaguing our mind since the ending of the first film. Who is Star-Lord's father? Will the Guardians meet up with the Avengers at some point? Will Thanos return to grapple with the Guardians? What happened to Nebula after she showed she'd rather chop off her hand then spend another moment with her adopted sister Gamora? If you were hoping Cooper would shed at least some light on these mysteries, we're here to disappoint you.
James Gunn is a guide for all of us through this massive intergalactic world. If it wasn't for him, there might not have even been a GOTG or, for that matter, a Rocket. After getting some much-needed advice from Avengers: Age of Ultron director Joss Whedon, who had some experience with this sort of thing, he took another swing at the script and made it more "James Gunn-y." That probably accounts for some of Rocket's more hilarious moments.
But seriously, what's a raccoon?
Your Daily Blend of Entertainment News
Your Daily Blend of Entertainment News
Thank you for signing up to CinemaBlend. You will receive a verification email shortly.
There was a problem. Please refresh the page and try again.