How Avengers 4 Could Connect To Netflix's Marvel Shows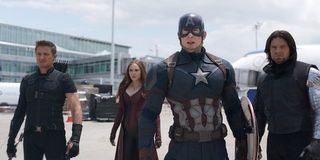 While little has been revealed about what's in store for Avengers: Infinity War next year, next to nothing has been disclosed about its immediate follow-up, Avengers 4. Aside from some confirmations regarding returning characters, there's been no information about what will happen in the 2019 blockbuster, though like Infinity War, it will have enormous repercussions for the entire Marvel Cinematic Universe. But it may not just be mighty, overpowered villains causing trouble in Avengers 4. On a smaller scale, it's being reported that we'll see members of the Yakuza, the Japanese crime syndicate that played a role in the Daredevil TV series, and thus potentially establishing a connection between the movies and Netflix realm.
Supposedly Marvel is currently casting extras to play Japanese gangsters in Avengers 4, which likely means they're Yakuza members. The actors wanted should be males ages 20-49, and they'll be involved in a night shoot that includes "rain work and facial prosthetics." Omega Underground also reports that there are extras ages 18-80 to play "Japanese cafe patrons," suggesting that a portion of Avengers 4 will take place in Japan rather than just have these Japanese criminals operating elsewhere in the world. With Avengers: Infinity War's production nearly completed, Avengers 4 will begin filming in a few weeks, and this night shoot featuring the Japanese extras will happen from August 17-18.
While the MCU movies haven't touched on Japanese organized crime, Daredevil explored the Yakuza in its first season, as the leader of its Hell's Kitchen operatives, Nobu (seen above), was allied with Wilson Fisk, a.k.a. The Kingpin. However, as the series continued, viewers learned that Nobu was more than just your average crime boss, and it was eventually revealed that he was a member of The Hand, the group of mystical ninjas that has antagonized Daredevil in the comics for years. Once The Hand and its supernatural roots were unveiled (they returned in Daredevil Season 2 and Iron Fist), the Yakuza cover was no longer necessary, but that was just one branch. How exactly Avengers 4's Japanese gangsters will be used is unclear, though it's likely that they're just a minor nuisance that some of the movie's superheroes have to deal with rather than being goons for whoever the main villain ends up being.
Keep in mind that even if we see the Yakuza in Avengers 4, that doesn't guarantee that we'll see an outright Daredevil connection presented. The Marvel movie and TV divisions work separately from one another, and despite Marvel throwing the "It's All Connected" tagline frequently, it's a one-sided relationship, as the movies rarely acknowledge the TV shows. Obviously we wouldn't expect a direct reference to Daredevil in Avengers 4 given how packed the story is, but even a brief mention of how the Hell's Kitchen branch collapsed would be enough. Even if that doesn't happen, one thing is certain: these particular bad guys don't stand a chance against Earth's Mightiest Heroes.
Avengers 4 will be released in theaters on May 3, 2019.
Connoisseur of Marvel, DC, Star Wars, John Wick, MonsterVerse and Doctor Who lore. He's aware he looks like Harry Potter and Clark Kent.
Your Daily Blend of Entertainment News
Thank you for signing up to CinemaBlend. You will receive a verification email shortly.
There was a problem. Please refresh the page and try again.