Why Marvel Movies And TV Shows Won't Crossover In The Foreseeable Future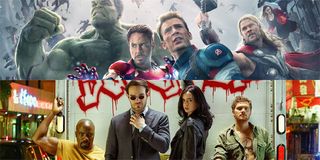 While the Marvel Cinematic Universe is successfully marketed as an all-encompassing comic book world, most fans will be quick to point out that there's a certain bifurcation that divides the beloved franchise. Despite the presence of familiar characters, locations, and major events in both mediums, the film and television departments at Marvel Studios maintain a certain distance from one another, and feature little crossover that isn't simply superficial. This has been a regular source of frustration for audiences, particularly now that significant characters like Daredevil, Luke Cage, the Inhumans and Ghost Rider are appearing on the small screen. Thus the question constantly looms: why aren't Marvel blockbusters and shows more prone to blend together?
Over the years we've heard many excuses, most involving creative difficulty, but there is a more concrete answer available to this question within the way things operate behind the scenes at Marvel Studios. Because of a corporate shakeup a couple years ago, the film and television departments essentially exist in separate spheres under the Marvel Entertainment brand, and because different major creative decisions are being made by completely different people, it's likely that fans won't see any kind of substantial crossover any time soon.
In the early years of the Marvel Cinematic Universe, as the company was first getting its legs as an independent studio, a principal hierarchy was established that had a small group of individuals molding and shaping the trajectory of the brand. Marvel Studios President Kevin Feige became the face of this unit early on, but he was positioned under Marvel Entertainment CEO Ike Perlmutter, and working alongside what has been dubbed the "Creative Committee:" a selection of executives and veteran writers who gave significant notes on developing projects. It was this structure that helped quickly establish the MCU as one of the most successful cinematic franchises of all time.
Marvel could toast the fact that their movies released between 2008 and 2012 made more than $3.1 billion at the global box office -- but as you would expect, it wasn't success grown without its fair share of behind the scenes conflict. This was highly publicized thanks to Jon Favreau's frustrations making Iron Man 2, but also because of reports regarding the low compensation of actors who had signed on to multi-picture contracts. As revealed in a July 2014 article in The Hollywood Reporter, much of this was an extension of the budget philosophies of Ike Perlmutter (to quote one unnamed executive: "It's things like, 'Why do you need a new pencil? There's two inches left on that one!'"). Still, Kevin Feige toed the company line, and in partnering with producers Louis D'Esposito and Victoria Alonso was still able to make the primary creative decisions for the future of the series.
It was after the launch of The Avengers -- a true global phenomenon -- that the gears started seriously turning in the television wing of the Marvel Cinematic Universe. Taking advantage of the popularity of Clark Gregg's character, Agent Phil Coulson, the franchise launched its first on-going show with the ABC network's Agents of S.H.I.E.L.D. in the Fall of 2013. While ratings weren't spectacular, early seasons did regularly reflect events featured in the big screen blockbusters (the plot of Captain America: The Winter Soldier was particularly influential in Season 1), and notable characters like Samuel L. Jackson's Nick Fury and Jaimie Alexander's Sif made cameos/guest appearances. The brand only got stronger with the announcement of not only Agent Carter, but also a massive deal with Netflix that would bring the New York-based superhero team The Defenders to life.
At the same time, a certain distance was also immediately established between the movie and TV realms of Marvel. Kevin Feige has kept his hands entirely off the non-feature projects (having Marvel Television EVP Jeph Loeb and Creative Committee member Dan Buckley call all the shots), and no Marvel film to date has featured a character who was originally created for the small screen. Not helping anything is the fact that television's track record hasn't been nearly as solid as the blockbusters'. While Daredevil, Jessica Jones, and Luke Cage have all been praised and earned large audiences, Agents of S.H.I.E.L.D. has never been a huge ratings winner; Iron Fist was slammed by critics, and Agent Carter was cancelled after two seasons (not to mention the Marvel's Most Wanted project that was aborted in development).
Regardless of this separation, the creative decisions for both film and television projects went through similar hands at Marvel for years. That is, until the summer of 2015. It was in late August that reports broke out about a major shift behind the scenes at the company, with Kevin Feige making key maneuvers. According to the The Hollywood Reporter, the relationship between Feige and Perlmutter & the Creative Committee came to a head during the making of Captain America: Civil War, with the New York executives trying to cut costs by scaling down the production. With Feige wanting the blockbuster to really shine and reportedly contemplating a departure, Walt Disney Company CEO Bob Iger ordered a restructuring within the comic book movie company that would no longer see the executive/producer report to Perlmutter, but instead directly to Alan Horn, the Disney Studios chief.
At the same time, Birth.Movies.Death. added to the news this also meant that Marvel Studios filmmakers would no longer have to collaborate with and take notes from the Creative Committee (it was said that it was their input to Ant-Man that led writer/director Edgar Wright to walk away from the production a few months before filming).
So how did this affect the developments at Marvel Television? The ultimate point is that it didn't. While Kevin Feige and his film division now have a significant level of autonomy under the larger Marvel Entertainment banner, the same is not the case for the small screen department, which is still under the influence of Ike Perlmutter and the Creative Committee. And that is what's revealed as the proverbial rub within this entire situation. Any heavy crossover between movies and TV would mean two creative teams collaborating despite the fact that one just actively acted to extract itself from the other. Given this situation, and the fact that there's no real motivation for either to work together outside of fan demand, it sadly just doesn't really make a great deal of sense for significant crossover to come together.
For now, however, the company line on the matter is focused on the creative complications inherent within crossing over television and films... which admittedly is a reasonable excuse. Kevin Feige has explained the situation many, many times, but put it best in an interview with iO9 last year, saying,
That quote doesn't take the possibility of more significant Marvel movie and TV crossovers entirely off the table -- but it's also far more optimistic than sentiments that have been shared by actors currently working in the two separate worlds. While attending Wizard World Des Moines Comic Con in May 2016, Agents of S.H.I.E.L.D. star Chloe Bennet didn't mince words when discussing the relationship between the two entertainment divisions, telling the crowd,
Expressing similar sentiments, Daredevil star Charlie Cox even went as far as to suggest that his superhero character could be played by a completely performer in The Avengers: Infinity War while he was on the 2016 Television Critics Association press tour. Said Cox,
Interestingly, turnabout has become fair play in this arena in recent years. While it's true that Marvel movies don't mention any of the goings-on on the small screen, it's become increasingly common for the television division to start ignoring the films as well. Not only did Agents of S.H.I.E.L.D. skip both Captain America: Civil War and Doctor Strange specifically-inspired episodes, but the Netflix shows seems to go out of their way to put the Avengers on the fringe (it's become a joke that heroes are never specifically mentioned by name, and the Avengers Tower is conspicuously missing from the New York skyline).
How do the actors on the film side of things feel about it? Well, if all Marvel stars feel similarly to Anthony Mackie, then the answer is that they totally don't care. The Captain America: Civil War star, who plays Sam Wilson a.k.a. Falcon, was on a panel as Wizard World Cleveland a few weeks ago, and when asked by an audience member about crossovers with the Marvel Netflix shows, he surprised the crowd by saying,
What Anthony Mackie said is a bit of an exaggeration, as Agents of S.H.I.E.L.D., Agent Carter, Daredevil, Jessica Jones, Luke Cage and Iron Fist - not to mention the upcoming Inhumans, Defenders and Punisher shows - most definitely do all take place within the Marvel Cinematic Universe. You just shouldn't really expect them to have any influence on the stories that are screening every few months at your local theater. Because what we're discussing is an active franchise, it's entirely possible that things could change, and Marvel will find some way to craft some sort of epic crossover... but it's unlikely fans will see that happen any time soon.
Your Daily Blend of Entertainment News
Assistant Managing Editor
NJ native who calls LA home and lives in a Dreamatorium. A decade-plus CinemaBlend veteran who is endlessly enthusiastic about the career he's dreamt of since seventh grade.
Your Daily Blend of Entertainment News
Thank you for signing up to CinemaBlend. You will receive a verification email shortly.
There was a problem. Please refresh the page and try again.