First Avengers: Infinity War Footage Makes Thanos Look Like A World-Destroyer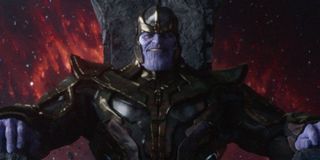 From the moment the dreaded Thanos (Josh Brolin) reared his head at the end of The Avengers and smiled at the prospect of bringing a war to our planet (or some sort of celestial body, we're not sure), audiences wondered if his showdown with Earth's mightiest heroes could live up to the hype. The purple Marvel icon is undoubtedly the biggest foe these heroes have ever faced, but size alone doesn't guarantee a compelling bad guy. Well wonder no longer, true believers, because the first official footage from The Avengers: Infinity War just screened, and we can now confirm that The Mad Titan will (quite literally) prove himself as a destroyer of worlds.
We just got out of Marvel's massive panel at D23 Expo in Anaheim, California, where Marvel Studios just showed its first teaser trailer for the upcoming Avengers ensemble. Of the many fantastic moments in the preview (and believe me, they are almost too numerous to count) the standout of the sequences show was Josh Brolin as the film's central villain. Make no mistake, Thanos is built a cosmic brick wall in this movie, and he will have no qualms about using The Infinity Gauntlet from the very moment he arrives on Earth. From grabbing Thor (Chris Hemsworth) by the skull to shrugging off laser blasts from Star-Lord (Chris Pratt) and Stephen Strange (Benedict Cumberbatch), he single-handedly dominates a battlefield that seems to stretch for miles. Seriously, folks, this guy makes The Battle of New York in the first film look like a picnic.
At one point, he even uses The Infinity Gauntlet to destroy a planet in orbit and bring it crashing down onto the Marvel heroes in a nightmarish firestorm. He's big, he's bad, and he won't hesitate to use his full powers the next time The Avengers assemble on the big screen. One thing is certain: this guy can do much more than just sit in a chair. Thanos IS courting death in this movie and based on the amount of pain and suffering that our heroes face in this early footage, it looks like nobody is safe.
It's not just Thanos' actions that make him such a badass either. He gets one of the coolest lines in the entire trailer as well. Specifically, he says:
So why is this so important to talk about? Well, aside from the fact that Thanos looks like the more badass, space-based Mr. Olympia that you've ever seen, it's critical because it seems that Marvel is genuinely trying to break away from one of its only consistent story problems. The MCU has consistently suffered due to lackluster villains, but Thanos looks like he's just the right combination of charisma and brute strength. Tony Stark (Robert Downey Jr.) has been afraid of a looming threat ever since the events of Age of Ultron, but he likely never expected something as terrifying as Thanos.
If nothing else, the footage shown to audiences at D23 should help allay the fears that The Avengers: Infinity War won't live up to its name. As the film's story will continue into the fourth Avengers movie (although we don't currently know how), many had begun to wonder if Infinity War would merely be setup to consolidate the Infinity Stones into one place. While we don't have a perfect outline of how the plot will pan out in this behemoth movie, the ample use of The Infinity Gauntlet makes it abundantly clear that this story isn't just setup -- it's a full blown, no holds barred war movie. The Gauntlet isn't finished (we only saw two stones in his possession), but he has enough juice to do some severe damage.
CinemaBlend will bring you more up to date coverage from D23 as new information about the future of the Marvel Cinematic Universe becomes available. Make sure to catch The Avengers: Infinity War when it debuts in theaters next summer on May 4, 2018!
Your Daily Blend of Entertainment News
Originally from Connecticut, Conner grew up in San Diego and graduated from Chapman University in 2014. He now lives in Los Angeles working in and around the entertainment industry and can mostly be found binging horror movies and chugging coffee.