Chris Hemsworth Is Looking Huge While Filming Thor: Ragnarok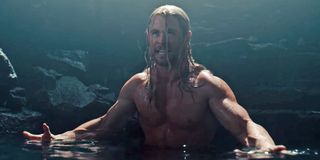 I don't care how much you work out or how dedicated you are to your personal fitness regimen; chances are that you'll never be able to compete with Chris Hemsworth. The guy's a complete physical specimen, and he has brought an immense sense of dedication and commitment to the physicality of Thor ever since he first donned the hammer back in 2011. In fact, a brand new photo of Hemsworth has just hit, the web and it looks like he may have gotten bigger than ever before in order to film Thor: Ragnarok. Check out the photo below to see what I mean.
Chris Hemsworth posted the above photo to his personal Instagram account to commemorate the victory of the Western Bulldogs soccer club. It's the team's first time moving on to the grand final since 1961, and he clearly seems pretty excited about the whole thing. Filming for Taika Waititi's Thor: Ragnarok has been well under way in Australia for quite some time, so it's clear that Hemsworth seems to enjoy his downtime quite a bit. Between filming the movie and doing pull-ups, he probably doesn't get to watch much soccer.
Everyone else seemed pretty excited about the Instagram post as well. Judging by the sheer number of Emojis with hearts for eyes, it appears that Chris Hemsworth's fans will take any and every opportunity to enjoy Thor's muscles. The guy's very clearly on a strictly creatine and whey protein diet, and it's paying off.
If you've kept up with the Marvel Cinematic Universe since its earliest days, then nothing about this photo should surprise you. Almost every single Marvel movie that Chris Hemsworth has appeared in has featured a scene in which he takes his shirt off, or otherwise flexes as if he's trying to win Mr. Olympia. Marvel clearly has a very firm understanding that they have a sex symbol on their hands, and they will use it at every opportunity.
There's another aspect of this photo that's very much worth noting, and it has nothing to do with soccer or Chris Hemsworth's muscles. Although his head is tilted upward in this photo, it's very clear that he has considerably shorter hair than most incarnations of Thor. We've known for some time that Thor would get a haircut at some point during the events of Thor: Ragnarok (leaked photos confirmed this weeks ago), but now it seems that Hemsworth has spent a substantial portion of the film's production with this new, arguably more fashionable hair-do. How it factors into the film's plot remains to be seen.
If nothing else, this photo confirms one very important thing: Chris Hemsworth is a monster of a human being. He has consistently brought an insane level of dedication to the role of Thor, and we seriously cannot wait to see him put those muscles to use and once again swing Mjolnir like a true god. Thor: Ragnarok will hit theaters on November 3, 2017.
Your Daily Blend of Entertainment News
Originally from Connecticut, Conner grew up in San Diego and graduated from Chapman University in 2014. He now lives in Los Angeles working in and around the entertainment industry and can mostly be found binging horror movies and chugging coffee.