Every Major Disney Update Out Of D23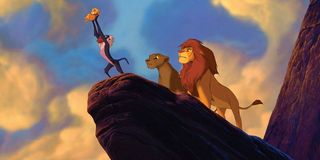 Disney has all the best stuff and they know it. Which is why this year's D23 was extra exciting. Not only does the studio have the latest Pixar and a number of other animated films to look forward to, but Disney also boasts two of the absolute biggest movies to be hitting theaters in less than a year: Star Wars: The Last Jedi and Avengers: Infinity War. Both had a strong showing at the fan expo this past weekend, but they were just two of the movies that made big announcements.
The Mouse House is one of the biggest entertainment companies in the world, with dozens of projects currently in the works in the hopes of earning all your money. Disney went hard this year and there were tons of big ticket movies dropping everything from new trailers to casting announcements. It's understandable if some of these flew under your radar, which is why we've collected all the biggest reveals from D23 in no particular order.
Avengers: Infinity War Shows Off An Earth-Shattering Trailer
Marvel opted to skip Thor: Ragnarok and Black Panther and just went straight for the jugular. After bringing out what was roughly a quarter of the cast of Avengers: Infinity War, Marvel Studios premiered the first ever footage for the mega huge blockbuster. Word on the street is, it was pretty freaking awesome, showing the Guardians of the Galaxy, Doctor Strange, Spider-Man, and the Avengers coming together to battle Thanos -- who throws an entire planet (or moon) at them! Unfortunately, this may have been D23 exclusive footage only, but there's always Comic-Con.
The Black Order Will Back Up Thanos
Thanos won't be the only one the heroes of the MCU have to contend with when Avengers: Infinity War hits. The Black Order, Thanos' elite group of followers, have been rumored to appear in Infinity War, and Marvel confirmed the news at D23. The group could be seen in statue form on the show floor, in addition to a replica of the Infinity Gauntlet. Much like how Gamora and Nebula are Thanos' "daughters," the Black Order has been reworked in the film to be Thanos' other "children."
The First Trailer For A Wrinkle In Time
From director Ava DuVernay comes A Wrinkle in Time, the adaptation of the bestselling novel by author Madeleine L'Engle. The film has a star-studded cast that includes Chris Pine, Reese Witherspoon, Mindy Kaling, Storm Reid, Zach Galifianakis, and Oprah Winfrey, most of whom were on stage in person during the live action panel. Disney unveiled the first trailer for the film, which looks gorgeous, filled with big colors and elaborate costumes. The word of the presentation was "passion" and it's clear that DuVernay brought a lot of it with her.
Wreck-It Ralph 2 Will Feature Every Single Disney Princess
Ralph Breaks the Internet: Wreck-It Ralph 2 may just live up to that title. At the animation panel at D23, Disney revealed that Ralph and Vanellope would be journeying into the internet, where they will visit Disney, Star Wars, and Marvel websites. So, in addition to the fact that Darth Vader and Spider-Man could get cameos in the same movie, it was also revealed that every single Disney Princess will share the screen at the same time. A clip was shown of all the Princesses together -- voiced by their original voice actors -- in a metatextual scene that apparently went down like gangbusters.
Star Wars: The Last Jedi Premieres A Behind-The-Scenes Video
Star Wars: The Last Jedi was the focus for Lucasfilms time on stage and it did not disappoint. Though there was no new trailer, the film did manage to drop a behind-the-scenes video showcasing the making of the highly anticipated sequel. It was an excellent look at the movie, that teased a few sparse details, such as an upcoming lightsaber duel for Rey and a new mission for Finn. It was an effective way to get people even more excited for later this year.
New Details About Disney's Star Wars Land Attraction
Disney has been busy constructing Star Wars Land -- now revealed to be called Star Wars: Galaxy's Edge -- for months now in Anaheim, California and revealed new details about the massive 14-acre attraction. The new theme park will fully immerse guests into the Star Wars experience, including interacting with various characters, a new hotel, piloting the Millennium Falcon, and a ride that puts you in the middle of a battle between the First Order and the Resistance. The new park will open its doors in 2019.
Live-Action Lion King Premieres New Footage
Disney is working on several adaptations of his animated films at the moment, but the one that might have stolen the show at D23 was Lion King. The Disney classic premiered new footage, showcasing technology that left the crowd stunned. The clip shown was almost a shot for shot remake of the opening to Lion King, wherein all the animals gather at Pride Rock to witness the new baby Simba. Much like The Jungle Book, the CGI effects are supposed to be mind blowing, even at this early stage.
Toy Story 4 Replaces Its Director
While we may question the need for another Toy Story, it's happening all the same and Pixar shared some news about how Toy Story 4 is doing. John Lasseter announced that he was stepping down as director and that his co-director, Josh Cooley, would be assuming full directorial responsibility. Lasseter will remain on hand as an executive producer and will mentor Cooley and his team. Seeing as how Cooley was already a co-director, this is hardly a seismic shift.
The Incredibles 2 Revealed New Footage
The Incredibles 2 will pick up right where the first film ended with the superpowered family taking on the Underminer. Director Brad Bird revealed that almost all of the original cast was returning for the movie and that the sequel would focus more on Elastigirl. There was also new footage showcased that featured a fun scene of baby Jack-Jack using his many superpowers to battle a raccoon, where his father finally discovers (and immediately begins to dread) his son's new abilities.
Aladdin Remake Casts Its Three Main Roles
It was previously reported that Disney was having a hard time casting Guy Ritchie's live action Aladdin movie, but D23 quickly set the record straight. Disney made the official casting announcement that Mena Massoud will be Aladdin; Naomi Scott will be Princess Jasmine; and Will Smith will play the Genie. The latter two had previously been rumored to be front runners and D23 confirmed the reports. Now we just have to wait and see if they'll get Gilbert Gottfired to be Iago again.
Pixar Is Making A Suburban Fantasy Film
Pixar has had sequel fever for a while now, but the animation studio announced at D23 that it was working on a new original film from Dan Scanlon. The film is set in a world where magic is commonplace in a modern society and where mystical creatures like Unicorns are regarded like pests. The film will follow two teenage boys whose father dies when they were young, and they set out on a magical quest to have one more day with him.
Tim Burton's Dumbo Remake Announces Its Cast
Dumbo is among the many different live action films in development over at Disney and the live action remake announced some big news at D23. Director Tim Burton has recruited Michael Keaton, Colin Farrell, Danny DeVito, and Eva Green to play the human characters in his Dumbo movie. The story follows Farrell's character, who is put in charge of a big eared baby elephant at a struggling circus, only to discover that the elephant has one amazing ability. The film is due to release in March of 2019.
Your Daily Blend of Entertainment News
Matt has lived in New Jersey his entire life, but commutes every day to New York City. He graduated from Rowan University and loves Marvel, Nintendo, and going on long hikes and then greatly wishing he was back indoors. Matt has been covering the entertainment industry for over two years and will fight to his dying breath that Hulk and Black Widow make a good couple.