The Incredibles 2 Finally Showed Footage, And Jack-Jack Is The Hero We've Been Waiting For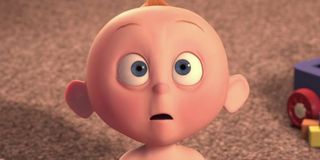 After making Ratatouille back in 2007, director Brad Bird decided to make a significant career change. Having experienced so much success in the animated world, he decided to try his hand in live action, and spent his time in the last seven years working on both Mission: Impossible - Ghost Protocol and Tomorrowland. Finally, however, he is back working at Pixar, and this afternoon we got our first look at the very exciting project he's cooking up now: The Incredibles 2.
The Incredibles 2 is now less than 12 months away from hitting theaters, and that fact was celebrated earlier today at Disney's D23 Expo down in Anaheim, California. Pixar and Walt Disney Animation's upcoming slates were shown off during the big animation panel, and a big part of that experience was finally getting to see the return of Mr. Incredible and (most importantly) Jack-Jack. We have waited well over a decade to see a new adventure in the world of The Parr family, but it's clear that the wait was well worth it, as the sequence in question finally gives the youngest member of The Incredibles ensemble his moment to shine
Opening on a quiet night at home between Mr. Incredible and his infant son (Elastigirl is apparently out conducting serious superhero business), Jack-Jack watches an old black and white serial featuring a mask-clad bandit facing off against the police. In his excitement, he looks outside to the family garbage bins -- only to see a raccoon rummaging through the rubbish. Thinking he's looking at a tiny, furry robber in his yard, Jack-Jack springs into action. Baby v Raccoon: Dawn of Awesomeness.
Fans of the original Incredibles already know that baby Jack-Jack has superpowers (even if the rest of the Parrs don't know it yet), but nobody could've expected the sheer amount of talent and potential in this kid. From heat vision to pyrokinesis to the ability to walk through solid objects and multiply himself, he's a cornucopia of incredible (get it?) powers that handily turn him into the most formidable member of the family. He's basically the entire X-Men team wrapped into one person, and he totally unleashes hell on this raccoon -- who, I will admit, puts up a decent fight. Needless to say, when his father awakens from his slumber and sees what his son can do, he's equal parts ecstatic and terrified.
If you enjoyed the Jack- Jack Attack short film that debuted shortly after the release of the first movie, then The Incredibles 2 should feel right up your alley. After all, it's hard not to fall in love with a baby who can light stuff on fire at will.
Aside from the raw, kinetic energy of The Incredibles 2 footage shown at D23, the scene screened for the crowd also served to reaffirm our hopes that the long-awaited sequel will maintain the overall style and tone of the original story. Even as superhero films have become considerably more prominent since Brad Bird's first installment debuted back in 2004, The Incredibles 2 will continue to embrace the timeless mid-century, Art Deco style and aesthetic that we have all come to know and appreciate. It doesn't crib from The Dark Knight or the MCU; it purely exists in its own version of a classic superhero reality. The sequel will take us into a very familiar world, and it's beginning to look like Jack-Jack may become one of its most exciting new players.
With all of that said, it's worth pointing out that there's still quite about that we do not know about the upcoming sequel. Brad Bird made sure to highlight the fact that a substantial roster of new heroes and villains (all of whom possess a broad range of fantastic abilities) will enter the equation when The Incredibles 2 hits theaters, which means Jack-Jack's newly discovered skillset will only represent one facet of the story. There is a lot left to learn about this long awaited animated feature, so we will just have to wait and see what Disney shows us next.
The Incredibles 2 will debut in theaters next summer on June 15, 2018. CinemaBlend will bring you more information related to the film as new details become available, and make sure to stay tuned for more of the latest and greatest D23 updates throughout the weekend! Beyond that, check out our comprehensive movie premiere guide for more information related to 2017's theatrical releases!
Originally from Connecticut, Conner grew up in San Diego and graduated from Chapman University in 2014. He now lives in Los Angeles working in and around the entertainment industry and can mostly be found binging horror movies and chugging coffee.
Your Daily Blend of Entertainment News
Thank you for signing up to CinemaBlend. You will receive a verification email shortly.
There was a problem. Please refresh the page and try again.