The Wreck-It Ralph 2 D23 Footage Is The Most Disney Thing To Ever Disney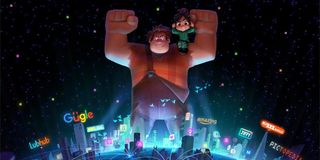 When you rewatch Wreck-It Ralph, you realize that director Rich Moore really chose a perfect song to start the end credits. After all, "When Can I See You Again?" is the exact question that fans have been constantly asking about Ralph, Vanellope, and the other amazing characters the 2012 movie introduced. As we learned a little while ago, the answer is November 2018 - and today we got our first look at what we can expect from Ralph Breaks The Internet: Wreck-It Ralph 2.
As part of the first day activities for Disney's D23 Expo in Anaheim, California, the studio held its big animation panel. While showcasing the new projects from both Walt Disney Animation and Pixar, the presentation also delivered our first look at Wreck-It Ralph 2, and if the footage is any indication, we should be in for a fantastic treat earlier this year. Not only did the footage introduced a brand new character to the video game world, but also establishes the movie as the first to really take full advantage of all the amazing brands and franchises that currently exist under the Walt Disney Studios umbrella.
The footage (which featured some very rough animation to start) began with our first look at Yesss (voiced by Taraji P. Henson), who is an algorithm from a trend-making site called Buzzaholic, and is essentially responsible for causing trends (evidenced in her hair and clothing style, which is constantly shifting. Having been transported from Litwak's Arcade to the internet, Ralph (John C. Reilly) and Vanellope (Sarah Silverman) employ her help in an attempt to go viral (or "Virus," as Ralph accidentally puts it). While riding around in a limo, Yesss explains that humans tend to cluster in like-minded groups, and that there are a bunch of different spheres of interest from superheroes to cartoons to sci-fi and much, much more. And the best place to go to get their attention? None other than OhMyDisney.com.
Ralph, Vanellope and Yesss arrive at the website, which is drawn like a hyper-advanced theme park where everything Disney comes alive: the Millennium Falcon soars through the sky, Iron Man takes off, and we even get to see a bit of interaction between Ralph and Tinkerbell (he gives her the nickname "Stinker Stomp," which she responds to with some aggressively-thrown fairy dust). As the group walks through the vast area, we see a wide variety of activities going on, including a "Marvel Yourself" device where visitors literally transform themselves into superheroes (or Stan Lee); and a section where you can press all of the many, many buttons on Buzz Lightyear's armor (something that Buzz clearly doesn't love). The movie even takes a moment to poke fun at some of the more crazed Disney fans -- specifically depicting with a little girl who goes completely nuts for Tsum Tsums, a.k.a. "furry sausages with faces." Vanellope is completely bewildered by the whole thing, but Yesss simply tells her, 'Don't overthink it; they're huge."
Its from there, however, that the main event truly starts, as crowds gather to see the parade of classic Disney Princesses -- who are guarded by Stormtroopers and wave to their fans as they enter their domicile. Seeing these characters immediately excites Vanellope (who you may remember is a princess herself), and she begs for the chance to go and mess with them. It's a request that's denied by both Ralph and Yesss, but the rejection only makes her want to do it more. As Yesss walks off and Ralph follows, Vanellope decides to take some initiative and uses her glitch abilities to sneak past the guards and into the Princess area.
As the footage changes to much more completed-looking animation, Vanellope's entrance gets quite the negative reception, as the famed Disney Princesses prepare to attack. Cinderella, for example, smashes her glass slipper and prepares to use it like a broken bottle. In hopes of getting everyone to calm down, Vanellope reveals herself as a princess too -- and while she doesn't have quite the same notably messed up experiences as some of her new companions, including magic curses and kidnappings, she does have one key similarity: people assume her problems all got solved because some big strong man showed up. It's after this revelation that all of the women accept the diminutive video game character, and what's more, they admire her choice to wear super relaxing clothes instead of formal wear.
After a quick cut, all of the princesses are lounging around in T-shirts and sweats, and declare Vanellope as the queen of comfort. Ariel from The Little Mermaid is particularly happy to the point that she's ready to sing about her love of "shirts," but the others quiet her down before she can get too carried away. As they continue to talk, the Princesses all begin to reveal that they are hardly the perfect individuals they appear to be, and each have their own individual flaws. Snow White is nearly blind without her glasses (a fun reference to the character's occasional odd arm movements in her classic 1937 movie); Jasmine from Aladdin is actually allergic to cats (including her tiger, Rajah); and Merida can barely be understood (which the ladies blame on the fact that she's "from the other studio.") Together they realize how boring it would be if everyone were just the same, and Vanellope expresses that the talk has really helped her in the conflict she's currently having with her friends).
The conversation is interrupted by none other than C-3PO, who comes in to the room to inform the ladies that they have just five minutes until show time. At first they make fun of him by calling him R2-D2, but after trying to spare his feelings, dismiss him by calling him BB-8 (leaving C-3PO to wander out the door discussing how much he finds himself missing his time with Mr. Solo). Vanellope recognizes that it's time for her to leave, and notes that she is "so in love with you guys, it's ridiculous." As her final goodbye move, she tries to pet Meeko, Pocahotas' raccoon friend, but instead just gets hissed and swiped at.
I will admit that my initial feeling about the Wreck-It Ralph 2 footage was that it was a bit too heavy-handed in its Disney extreme-ness and the celebration of its own brand - but by the time it was over I found myself impressed and excited. Not only is it a lot of fun to see the studio legitimately making fun of itself, but it's also impossible not to appreciate the effort that went into collecting a bunch of the of the princess voice actors and getting them to all reprise their roles. It ultimately reminded me a lot of The LEGO Movie on a creative level, and considering this is just one small section of the internet that Ralph and Vanellope are exploring, I can't wait to see what the rest of the film has to offer.
Given that Ralph Breaks The Internet: Wreck-It Ralph 2 isn't set to come out until November 21, 2018, we still have a little while to wait before we actually get to see the finished product -- but our anticipation levels are now through the roof. Naturally, we'll be keeping a very close eye on it in the coming months, so be sure to stay tuned here on CinemaBlend for all the latest details!
Your Daily Blend of Entertainment News
Assistant Managing Editor
NJ native who calls LA home and lives in a Dreamatorium. A decade-plus CinemaBlend veteran who is endlessly enthusiastic about the career he's dreamt of since seventh grade.