Kingsman 2 Comic-Con Footage Features Julianne Moore's Villain, Some Forced Cannibalism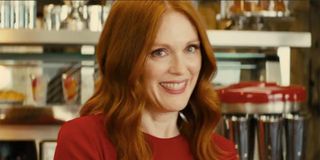 Back in early 2014, director Matthew Vaughn brought us one of the most surprising blockbusters in recent years, adapting the Mark Millar and Dave Gibbons comic Kingsman: The Secret Service for the big screen. Simultaneously existing as both a hardcore, R-rated action movie and a wonderful send-up of spy movies, it charmed the hell out of audiences, and we've been waiting for the sequel ever since. Now Kingsman: The Golden Circle is just a couple months from release, and at San Diego Comic-Con today we got a very special look at the movie's brand new villain, played by Julianne Moore. And it was absolutely disgusting!
Panels have officially started at the famous Hall H in the Anaheim Convention Center, and 20th Century Fox kicked things off in a big way with a special preview of Kingsman: The Golden Circle. In addition to assembling stars Taron Egerton, Colin Firth, Channing Tatum, Halle Berry, Pedro Pascal, and Jeff Bridges on stage, along with writer Jane Goldman and artist Dave Gibbons, the presentation also gave an extended look at the movie's special new antagonist, and it was a clip that involved murder, identity wiping, and even a good bit of cannibalism.
The footage began with voice over from Julianne Moore's Poppy, who introduces herself as the owner and operator of the biggest drug cartel in the world -- despite never really being her thing personally. As the camera swoops around a lush forest in what's clearly an area way off the map, she explains that her life has forced her to live in the middle of nowhere, in ruins that are technically undiscovered, but that she has managed to add some personal touches to her environment. We then see what from first appearances appears to be the remnants of an Aztec civilization, but it wears its changes right on the outside with a big sign that says "Poppy Land."
As the camera zooms through the land she calls home, she explains that she has always had a fascination with 1950s Americana -- from Grease to American Graffiti to Happy Days -- and has borrowed that aesthetic for her domicile. Classic-looking storefronts and even a movie theater line what could be described as a main street, and at the end of the road is a diner that Poppy uses as her headquarters.
It's revealed that Poppy hasn't been speaking directly to the audience, but instead two men who are sitting at her desk. The first, who is identified as Charles and has a literal golden circle on his chest, is recommending the other, Angel for a job in the organization, and Poppy is determining whether or not Angel is worth taking on. Never appearing anything but wonderfully friendly, the villainess notes that the two men must be starving, and walks them over to the main diner area, where Poppy throws on an apron. The camera lingers on a giant meat grinder, and it's made abundantly clear that something sinister is about to happen.
Still never changing her tone, Poppy politely explains that in her organization that her authority is never to be questioned, and that there is an extreme importance put upon following orders and loyalty. Turning to Angel, Poppy explains that this is an area in which Charles has "messed up," and she asks him to toss Charles in "the mincer." The two men laugh at first, but she makes her intentions very clear when she walks over to the grinder and turns it on. Charles tries to make a break for the door, but finds himself stopped when Poppy whistles for her two terrifying robot dogs.
With Charles distracted, Angel punches him with enough force to knock him out, and then throws him in the grinder head first. As ground meat starts to come out the other end of the machine, Poppy switches it off, and tells Angel to head across the way for a makeover at the salon. He crosses the street and meets up with a robot "stylist," who proceeds to sand his teeth, laser off finger prints, and inject a golden circle into his chest with real boiling gold. Meanwhile, Poppy keeps herself busy at the diner, shaping a patty out of the ground Charles meat and throwing it on the grill.
Angel crosses the street and returns to the diner, but is met with something rather horrifying. Poppy proclaims, "It's beautiful, isn't it?" referring to the perfect looking burger that she has cooked up. "Bon Appetite!" she says, as Angel looks from the burger to the legs in the grinder, to the meat, to Poppy. Clearly understanding the consequences that will incur if he says no, he takes a big bite -- clearly trying not to gag as he does so. "How is it?" she asks. "It's delicious!" he hesitantly replies. "Welcome to Golden Circle!"
One of the best parts of the first Kingsman was the way in which it managed to play real extremes for laughs, and the described footage made it clear that tone will still be very much a part of the sequel. Kingsman: The Golden Circle obviously has a lot to live up to thanks to the weirdness of Samuel L. Jackson's villainous turn in the first movie, but Julianne Moore definitely has the skills to get it done, and Poppy looks like a wonderfully demented, crazy, and fun supervillain for the heroes to square off against.
It feels like it's been forever since we last saw Taron Egerton's Eggsy and the rest of the Kingsman organization on the big screen, but the good news is that the wait is almost over. Kingsman: The Golden Circle is now deep in the post-production process, and will be heading to theaters on September 22nd. It's easily one of our most anticipated blockbusters of the fall season, so keep checking back for more updates here on CinemaBlend!
Your Daily Blend of Entertainment News
Assistant Managing Editor
NJ native who calls LA home and lives in a Dreamatorium. A decade-plus CinemaBlend veteran who is endlessly enthusiastic about the career he's dreamt of since seventh grade.