7 Huge Questions We Have After DC Released Its Superhero Schedule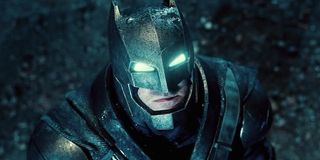 Today at San Diego Comic-Con, Warner Bros. released a huge list of planned DC superhero movies, and while it was great to see so many titles on the way, it's possible this list is creating more questions than answers. While we're excited to see every movie on the list, we're more than a little surprised by a few of the new reveals and even more shocked by the things we didn't see. What exactly is the long term plan for the DCEU?
Following on the success of Wonder Woman, we certainly want to see DC's superhero universe succeed. However, for that to happen, we're going to need these questions answered. Here's every big question we have following the big Warner Bros. Comic-Con panel today.
Will Flashpoint Reset The DCEU?
One of the real surprises on the slate was the apparent plan for a Flashpoint movie. In the comics, the Flash's time travel shenanigans were used to cause a major reset within the DC comics continuity. Is Warner Bros. already planning to reboot the DCEU the same way? If they're not, then what's the point of doing a Flashpoint story in the first place? If they are already planning a reboot, then what does that say about WB's own feelings toward the current franchise? How much effort will they put in to making the rest of the films good if they're already planning the reset.
Where Is Man Of Steel 2?
Everything we'd heard seemed to indicate that a sequel solo movie for the Man of Steel was a sure thing, and yet, his logo was nowhere to be seen in Hall H. It's possible that Man of Steel 2 was intentionally left off the list simply because the return of Superman within the DCEU storyline has never been official. Still, it's officially the worst kept secret in Hollywood. We know he's coming back, if he is getting another movie, just put it on the damn list. It won't actually reveal how Superman will return, which is the more interesting question, to begin with.
Did Shazam Bump The Black Adam Movie Back?
Quite possibly nothing within the DCEU has been as utterly confusing as Shazam. The title character has still never been cast and more focus has been given to his nemesis Black Adam, who is set to be played by The Rock. We were told Black Adam would also get his own film, but there was no evidence of that here. We've also been told that Black Adam won't even appear in the Shazam film at all. When DC's Geoff Johns confirmed that Black Adam would not be in Shazam he still confirmed that a Black Adam movie was happening, so where is it?
Where Is Cyborg's Movie?
Almost as soon as it was revealed that there was going to be a DC Extended Universe, we were told who the initial members of the Justice League would be, and we were told that after they were all introduced in the Justice League movie, each character would get their own standalone movie. Wonder Woman has had hers, and The Flash and Aquaman still had their films listed in the list presented by DC. However, Cyborg did not. Does this mean that his standalone movie has been canceled? Why is he the only member of the Justice League to not get his own story?
What Happened To Harley Quinn Vs Joker?
Rumors of the Harley Quinn vs. Joker movie surfaced just as San Diego Comic-Con was getting started. It wasn't a stretch to wonder if the WB's plans for their panel had been the source of the rumor, but the movie was not officially announced on the DC slate. Does this mean the rumor was completely made up? Alternatively, is the idea in such early stages that the plan is for the movie to follow Winder Woman 2? Did Jared Leto's random comments about the Joker have anything to do with the movie not being announced? What exactly is the long-term plans for DC's most iconic villain?
Why Do We Have To Wait So Long For Wonder Woman 2?
If the films announced today were listed in their expected release date order, then that means Wonder Woman 2 will come after every single other movie they announced. That's insane. It's the only unequivocal success the DCEU franchise has, so why in the world would they wait? It came out less than a year after Suicide Squad and unless DC plans to release five movies a year, it looks like we'll see a Suicide Squad sequel the better part of a decade before Wonder Woman 2. If any movie in the DCEU deserves to be fast tracked to a sequel, it's Wonder Woman.
Is Gotham City Sirens Really Happening?
Another film that was conspicuous by its absence from the list was Gotham City Sirens. The expectation for a Harley Quinn movie starring Margot Robbie has been hanging around since before Suicide Squad was even released. We know that David Ayer is planning to direct. With those major players in place, this film would seem to be a sure thing, even if it's still going to be a few years off. So where exactly is it? Does it being MIA mean there's a problem with the project? Are the elements we thought were locked in not so locked or is something else holding things up?
CinemaBlend's resident theme park junkie and amateur Disney historian. Armchair Imagineer. Epcot Stan. Future Club 33 Member.
Your Daily Blend of Entertainment News
Thank you for signing up to CinemaBlend. You will receive a verification email shortly.
There was a problem. Please refresh the page and try again.