Thor: Ragnarok Showed 3 Full Scenes At Comic-Con, Here's What We Saw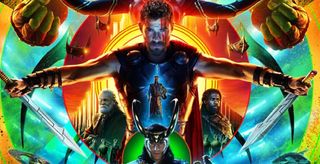 Saturday night always belongs to Marvel Studios at San Diego Comic-Con. The company strategically always takes the last slot in Hall H during the most popular day of the convention, and in the last 10 years they have never failed to get fans incredibly excited for everything that's coming up on their slate. This year was definitely no exception, in large part thanks to the impressive and hilarious extended footage that was shown from writer/director Taika Waititi's Thor: Ragnarok.
Starting with no real set-up, but also a good dose of exposition, the footage began with an unconscious Thor (Chris Hemsworth) waking up to discover that he has been strapped to a chair and is slowly moving down a long, seemingly endless tunnel. As the walls begin to morph and change, showing colorful designs and images, a calming female voice speaks to the Asgardian, explaining, "Fear not, for you are found. You are home. There is no going back. No one leaves this place."
The mysterious voice then goes on to explain where exactly "this place" is. While the walls illustrate what is being said, it's revealed that Thor has found himself of Sakaar, a planet that is surrounded by cosmic gateways and "lives on the edge of the known and unknown." It's identified as a collection point for lost and unloved things, where they can be found and loved -- "And nobody loves you more than The Grandmaster." Thor struggles to fully comprehend what he is hearing, as the voice goes on to explain that The Grandmaster (Jeff Goldblum) is the creator of the Contest Of Champions, and that everyone on the world belongs to him.
Wrapping up, the voice explains that Thor will get to meet The Grandmaster in 10 seconds -- and suddenly the images on the walls begin to move faster and faster -- not too dissimilar to the notorious Willy Wonka boat ride. The Avenger begins to yell in panic, but in a flash the walls totally disappear and Thor is simply left sitting in his chair in the middle of a room surrounded by The Grandmaster's guards. Sitting about 20 feet in front of him is his new owner, and behind him are Valkyrie (Tessa Thompson) and Topaz (played by Taika Waititi's personal good luck charm, Rachel House). Looking his new captive up and down, The Grandmaster exclaims, "He's wonderful!" -- before confirming that he is in fact a "he" with Valkyrie.
The Grandmaster (who is actually the brother of The Collector from Guardians of the Galaxy) couldn't be more happy with his new prize -- but Topaz clearly isn't too impressed. While the ruler of Sakaar lauds Valkyrie - who he calls Scrapper 142 -- and notes that she always brings him the best stuff, Topaz takes every opportunity to put her down. "What do I always say?" The Grandmaster jubilantly exclaims, "She is the... it starts with a 'B.'" Without hesitation. Topaz replies, "Trash." Confused, Grandmaster wonders if Topaz was just waiting to say 'Trash," and re-explains that he was looking for a 'B' word -- to which Topaz replies, "Bitch."
The word The Grandmaster was looking for is 'Best," and then he reveals something significant: it was Valkyrie who brought him his great champion -- who we eventually learn is none other than The Hulk (Mark Ruffalo). Requesting a closer look at his new 'contender,' the celestial monarch has his chair pushed closer to Thor -- but it's this that pushes the Asgardian past his breaking point. He proclaims that he is not for sale, and successfully manages to break out of his wrist restraints, but this action is followed by Valkyrie pressing a button that activates some kind of shock implant in Thor's neck. While Topaz protests, Grandmaster agrees to pay "Scrapper 142" the price of 10 million units. Lovingly brushing Grandmaster's cheek with her hand as she walks towards Thor (something he clearly likes), Valkyrie gets ready to move the hero to his new holding area. "You'll pay for this," Thor says weakly. "Yeah, right, I'll pay for this," Valkyrie responds.
The Grandmaster instructs that Thor should be made to feel welcome -- but the next scene has him roughly shoved into his quarters, which he shares with some other strangers. While Thor is clearly stressed, an alien sitting against the wall tells him to calm down and introduces himself as Korg (voiced by Taika Waititi). While he looks like a lumbering pile of rocks, Korg explains that he shouldn't let that be intimidating, and while doing a walk-and-talk with Thor around the circular cell he identifies himself as a leader of the inmates. Giving some back story, he says that in his old life he tried to start a revolution on his own planet, but it didn't work out so well due to the fact that he didn't print out enough pamphlets, and only his mom and her boyfriend actually showed up. Meanwhile, Thor tries to run ahead, but almost as soon as he leaves the screen he appears again running up from behind Korg. Naturally, this confuses the hell out of the Avenger, but Korg notes, "Yeah, this whole place is a circle. Not a normal circle. Like a freaky circle."
Thor inquires about doing battle with the Grandmaster's champion, but Korg dismisses this idea saying that he'll just end up like Doug -- who is lying dead against the wall. Korg has managed to stay alive because he only participates in warm-up fights, noting that while he's made of rocks, they are "perishable rocks." Forever the prideful hero, Thor proclaims that he is going to fight the champion, win, and get away from Sakaar. "That's exactly what Doug used to say," Korg replies. "See you later, New Doug!"
From there we got to see the brand new trailer for Thor: Ragnarok, which thankfully premiered online shortly after it was shown in Hall H. And you can watch it below!
It has been made very clear that Thor: Ragnarok will be very different than the previous Thor movies we've seen, and the new footage most definitely emphasized that fact. Much in the same way that Marvel Studios gave James Gunn the freedom to make the movies he wanted to make with Guardians of the Galaxy, the third Thor movie is completely drenched in the auteur stylings and sensibilities of writer/director Taika Waititi, and that is beyond exciting. Not only does the movie look incredibly funny, but also beautifully colorful, and very, very weird.
We have really been waiting years for this one, but thankfully there isn't too much waiting left to go. Marvel has set plans to have Thor: Ragnarok in theaters on November 3rd, and given that it's one of our most anticipated titles of the fall, you can be sure that we here at CinemaBlend will have plenty more updates about the feature for you between now and the release date. In the meantime, hit the comments section below to tell us your thoughts on the described footage, as well as the new trailer!
NJ native who calls LA home; lives in a Dreamatorium. A decade-plus CinemaBlend veteran; endlessly enthusiastic about the career he's dreamt of since seventh grade.
Your Daily Blend of Entertainment News
Thank you for signing up to CinemaBlend. You will receive a verification email shortly.
There was a problem. Please refresh the page and try again.