Dine-In Theater Victimized By Complicated Credit Card Scheme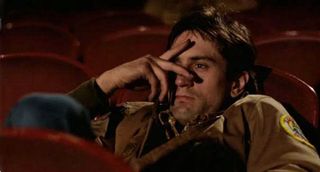 When people go to the movies, we get there can be worries. You may want to sit near an exit in case you need a quick bathroom break. You may worry about picking a seat near a kid (or adult) who constantly kicks your seat. Or you may worry about sitting next to someone who spends a good chunk of the film on his or her phone. What you usually don't have to worry about is credit card fraud after dropping hard-earned cash to go to the theater, unless you ended up unfortunately dealing with this "elaborate" credit card scheme in Georgia.
According to reports, Studio Movie Grill employee Tiffany Webb was in cahoots with a man named Ricardo Montanez Blalock to steal credit card information. During her serving shift at the grill, Webb used a mini credit card reader to pull people's card information for use by herself and Bialok. The latter paid Webb $1,000 a week to take the credit card information off of her hands.
Police arrested Tiffany Webb this week. She had the card reader on her person at the time of her arrest, and she admitted to police that Ricardo Montanez Blalock was also involved in the scheme. However, the latter accused offender is still at large. It is believed that the two individuals were stealing credit card numbers for at least three months at the time of Webb's arrest. She has been charged with "Possession of Tools for the Commission of Crime" and "8 counts of Financial Identity Fraud. "
So, how was the Studio Movie Grill scheme caught? So far, eight individuals who were bamboozled by the scheme have come forward. Several have said they noticed issues with their cards when there were unusual fuel purchases on the card. If people are only using the credit card numbers for fuel, they may not even be noticed among myriad fuel charges, according to WSBTV Atlanta, who spoke with some of the fraud victims. The theater manager also said that Tiffany Webb had access to hundreds of cards during the period when she was using the card reader, and more victims may come forward.
Identity theft happens a lot more frequently in this day and age with skimmers being a leading way for individuals to procure credit card numbers. A dine-in theater might not be the easiest place to skim credit cards, but it's certainly proof that your credit card can be swiped numerous places. This should go without saying, but if you aren't checking your bills already, it may be a good idea to do so -- especially if you went to Studio Movie Grill in Gwinnett County.
So far, it's been a weird week at the movies, with police looking for a suspect who masturbated during an Emojo Movie screening. Hopefully, this weekend will be a whole lot more uneventful.
Your Daily Blend of Entertainment News
Reality TV fan with a pinch of Disney fairy dust thrown in. Theme park junkie. If you've created a rom-com I've probably watched it.