Despicable Me 3 Just Set A Major Box Office Record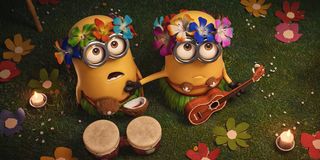 It's not a huge shocker to hear that an animated kids movie is doing well, especially when it comes out in a time when the weather is hot and there are a dearth of kids movies at the box office. It is also not a shocker to learn that Despicable Me 3 is that movie, and it is not just doing well, it's completely dominating. In fact, it recently became the largest animated franchise ever, which means that, yes, it has surpassed the Shrek franchise at the box office.
Over the weekend, it was noted that Despicable Me 3 hit the $879.5 million mark at the box office, and by Monday that final tally had bumped up even more to $881 million, per Box Office Mojo. This is impressive on numerous levels. First, as noted prior, the Despicable Me franchise is now bigger than the Shrek franchise. Globally, the Despicable Me movies have now grossed $3.528 billion when factoring in all the movies. Shrek's movies have only grossed 3.51 billion. That's still close, but Shrek's no longer the big winner. That franchise will need to do a little more work to catch up.
There's another reason that Despicable Me 3 has been pretty notable. It's also the highest grossing movie of the summer---and that's even if we are counting Guardians of the Galaxy Vol. 2, which technically came out at the beginning of May, before most schools were even out. Forbes notes that movie has made $862 million so far. It's also higher grossing right now than Wonder Woman, which came out a couple of weeks before Despicable Me 3. (It may help that the animated movie had a huge opening in China.) The female-led superhero film has currently made over $793 million worldwide.
With a franchise that's clearly lucrative, you would think Despicable Me 4 would have already been greenlighted, but that's not the case. No plans are currently moving forward for another movie in the franchise---at least not yet. Still Miranda Cosgrove has been open about what she would like to see happen. The creators of the movie have already said that Despicable Me 3 was a lot harder to write than the other two, mostly because it was more difficult to find a family-oriented story that worked. Presumably, if another movie is made, the creative team will need to dig deep to find a good storyline to cover before signing on. And hey, if that doesn't work out, the studio is already planning to make Minions 2.
Minions 2 is currently on the books for a 2020 release, and we'll let you know what is coming to theaters in the meantime with our full premiere schedule.
Amazing Race & Top Chef superfan with a pinch of Disney fairy dust thrown in. Theme park junkie. If you've created a rom-com I've probably watched it.
Your Daily Blend of Entertainment News
Thank you for signing up to CinemaBlend. You will receive a verification email shortly.
There was a problem. Please refresh the page and try again.