Snoke Will Have Awesome Bodyguards In Star Wars: The Last Jedi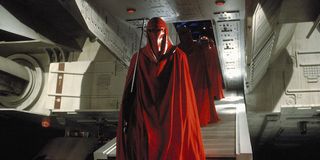 When The First Order rose from the ashes of The Empire, a lot of signature elements were carried over, from stormtroopers to TIE Fighters. In Supreme Leader Snoke's case, he's taken a cue from Emperor Palpatine and surrounded himself with crimson-garbed bodyguards. Hey, even sinister Force users need protection! Now we have our first look at the individuals who are tasked with keeping Snoke safe in Star Wars: The Last Jedi, and as you can see, they're not to be taken lightly.
Supreme Leader Snoke was only seen as a hologram during Star Wars: The Force Awakens, but in The Last Jedi, we'll finally see Andy Serkis' towering character in person. While it wouldn't be wise to underestimate Snoke's capabilities just because of his scarred visage and decrepit build, he wisely has the Praetorian Guard on hand to protect him from anyone trying to harm him. Named after the guards who protected ancient Roman emperors, the Praetorian Guard were designed to look more formidable than the Emperor's Royal Guard seen in Return of the Jedi and Revenge of the Sith. The Last Jedi director Rian Johnson explained to EW:
The Praetorian Guard will accompany Snoke when he finally emerges from hiding in The Last Jedi, and you can be sure that only the best of the best are selected for this duty. Towards the end of The Force Awakens, Snoke commanded General Hux to find Kylo Ren and have them both come to him, adding that it was time for Kylo to complete his training. The presence of the Praetorian Guard seemingly confirms that Kylo will indeed come face-to-face with his master again, although it remains to be seen if these soldiers will do battle with anyone from the Resistance.
Since the Praetorian Guard appear to be wielding electrostaffs in the picture, it's plausible that they could find themselves battling Rey and/or Luke Skywalker during The Last Jedi, much like how Anakin Skywalker and Obi-Wan Kenobi fought General Grievous' MagnaGuards in Revenge of the Sith. More amusingly, I could also see Kylo Ren using a few of the Praetorian Guard as sparring partners to deal with his pent up anger.
You can see the Praetorian Guard in action when Star Wars: The Last Jedi hits theaters on December 15.
Your Daily Blend of Entertainment News
Connoisseur of Marvel, DC, Star Wars, John Wick, MonsterVerse and Doctor Who lore. He's aware he looks like Harry Potter and Clark Kent.